NEH Narrative in Tandem
Narrative in Tandem is a National Endowment for the Humanities (NEH) project designed to establish a health humanities program, mutually complementary with the training of health professionals at the new UCR School of Medicine (SOM), the first new Medical School in California in more than 40 years. The timely co-establishment of an HSI health humanities program with a new medical school offers a rare opportunity to improve doctor-patient interactions through the humanities with a medical school that emphasizes a physician workforce committed to wellness and health for the under-served regions of Riverside and the Inland-area communities.
Narrative in Tandem is organized around examining narrative in the humanities and medicine through three approaches of conveying, expressing, and understanding "the symptom." "The symptom" is defined to include both medical and social conditions impacting health experiences from patient/provider to connections with individuals and communities not physically present in the encounter. Over the course of two years, participants from disciplines in the humanities, social sciences and medicine will explore these issues through intersecting activities designed to: 1) contribute knowledge of narrative in health and medicine; 2) develop narrative skills, including course syllabi and activities that can be applied in humanities and medical education; 3) compile seminar discussions to contribute to a larger strategy about integrating humanities and medicine; and 4) lay the groundwork for establishing a vibrant health humanities program at UCR.
Faculty Coordinators
Juliet McMullin, Ph.D
Dr. Juliet McMullin is an Associate Professor in the Department of Anthropology at the University of California, Riverside specializing in Cultural and Medical Anthropology. Dr. McMullin has had an enduring interest in the production of health knowledge and inequalities. The central focus of her work has been to understand the social organization and practice of medical knowledge as it is created and constrained within a political economy of health. Her research examines the contexts in which political struggles over health embody inequality and reflect efforts at reconfiguring individual subjectivities and social structures. These issues are explored through the topics of cancer, cultural meanings of health, and pediatric injury. Importantly, she has a passion for translating that interest to her work with local communities and students. Her current research examines the field of graphic medicine, the social and material role of graphic novels in narrative medicine and health inequalities.
An advocate of community based participatory research, Dr. McMullin worked with the Pacific Islander Health Partnership and Christen Marquez on Talk Story, a Cal Humanities Community Story Project Grant in which stories from Southern California's Pacific Islander community were collected. In 2011, she help to establish the Medical Narratives Colloquium at University of California, Riverside, a multi-disciplinary group of scholars with interests in the intersections of humanities and medicine. The colloquium has become an active workgroup on campus funded through the UC Riverside's Center for Ideas and Society, Andrew W. Mellon Foundation Award.
Tiffany López, Ph.D
Dr. López is a Professor in the Department of Theatre, and Tomás Rivera Endowed Chair at the University of California, Riverside. She has over twenty years of experience as a leading scholarly voice that fosters dialogue and programming among academics, artists, practitioners, and audiences and a national reputation for her work within Chicana/o and Latina/o arts communities. Dr. López's research, teaching, and creative activities focus on issues of trauma and violence and the ways that theater, literature, and art provide avenues for cultural healing and community building. As a hybrid scholar and creative artist, Dr. López has dedicated her career to expanding opportunities in higher education through the arts and staging conversations about their role in fostering personal transformation and social change.
Dr. López is editor of the anthology Growing Up Chicana/o (William Morrow & Co., 1993) and Chicana/Latina Studies: The Journal of Mujeres Activas en Letras y Cambio Social (2005-2012). She has published numerous essays, articles, chapters, and reviews in books and journals. She is presently completing a book project, The Alchemy of Blood, about art as a form of engaging with issues of trauma and violence, and collaborating on a biography with visual artist Barbara Carrasco. Her play adaptation of Tomás Rivera's And the Earth Did Not Devour Him was recently performed at UCR with plans for it to be performed at the University of Texas in 2013. Her publication activity includes co- editorship of Chicana/Latina Studies (2005-2012), and her writing has appeared in numerous journals and books, including Theatre Journal; Art Journal; The Panza Monologues; Real Women Have Curves & Other Plays; Performing the U.S. Latina and Latino Borderlands; and Captive Audience – Prison and Captivity in Contemporary Theater. She is a founding member of the Latino Theater Alliance of Los Angeles and serves on the national advisory committee of the Latina/o Theatre Commons and the editorial board of American Studies.
Paul Lyons, Ph.D
Dr. Lyons is a physician, educator and published author currently serving as the Senior Associate Dean of Education at the University of California, Riverside School of Medicine. He has worked collaboratively for well over a decade with multiple educators exploring the intersection of literature and medicine. Dr. Lyons' research interests in issues involved in health and wellness have resulted in collaborative educational offerings in medical ethics, nutrition, Public Health, Emergency Preparedness and Disaster Response and green space development. His work in education and medical education has been recognized regionally and nationally by the American Association of Medical Colleges' Humanism in Medicine Award, American Medical Student Association's National Golden Apple for Teaching Excellence Award, a Lindback Foundation Award, Temple University's Great Teacher Award, and the Russell and Pearl Moses Endowed Medical Award for Outstanding Teaching.
He has served as a media medical expert for a wide variety of news organizations including Vogue, Cosmopolitan, CNN, NBC's Today Show, Prevention magazine, USA Today and local television, newspaper and radio outlets. Dr. Lyons has constructed a unique core curriculum for the University of California, Riverside School of Medicine that reflects the emerging needs of future physicians facing a healthcare system that is rapidly evolving in new and unusual ways.
Past Events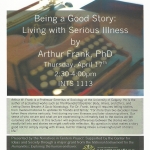 Being a Good Story: Living With Serious Illness – Arthur Frank
"For more than two decades I have taken these stories seriously, first during my own illness and later observing others. Our sense of who we are and what we are experiencing is intimately tied to the stories we tell ourselves and others. In this lecture I will explore differences between the stories we can readily fall into and stories we might craft with reflection. My question is what makes a story good, not for simply coping with illness, but for making illness a meaningful part of one's life."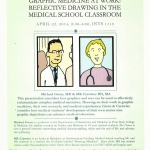 Reflective Drawing in the Medical School Classroom – Green & Czerwiec
Michael Green is a professor in the Departments of Humanities and Medicine at Penn State College of Medicine. He teaches a course on Comics and Medicine to 4th year medical students. Dr. Green is also a general internist researching medical decision-making, ethics and the end of life, and advance care planning. MK Czerwiec is an Artist in Residence at Northwestern Feinberg Medical School, teaching M1 and M2 students in a seminar she developed entitled "Drawing Medicine". Since 2000, MK has created comics under the pseudonym Comic Nurse. Her clinical experience is in HIV/AIDS and hospice care.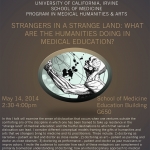 What are the Humanities doing in Medical Education? – Johanna Shapiro
In this I talk will examine the sense of dislocation that occurs when one ventures outside the comforting silo of the discipline in which one has been trained to take up residence in the "strange land" of medical education; and the fruitful destinations to which that sense of dislocation can lead. I consider different conceptual models framing the gifts of humanities and arts that we strangers bring to medicine and its practitioners. These include: 1) doctoring as narrative – patient as text and doctor as close reader, 2) doctoring as art – patient as painting and doctor as close observer, 3) doctoring as performance – patient and doctor as jazz musicians or improv actors.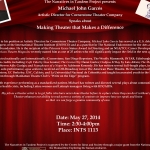 Making Theater That Makes a Difference – Michael John Garcés
In addition to his position as Artistic Director for Cornerstone Theater Company, Michael John Garcés has served as a U.S. delegate to the 30th World Congress of the International Theatre Institute (UNESCO) and as a panelist for The National Endowment for the Arts and the Andrew W. Mellon Foundation. He is the recipient of the Princess Grace Statue Award in Directing and an NEA/TCG Career Development Program Grant. American Theatre Magazine recently named him as one of 25 artists who will significantly impact the field in the next quarter century.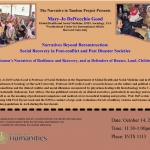 Social Recovery in Post-conflict and Post Disaster Societies – Good & Hannah
Mary-Jo DelVecchio Good is Professor of Social Medicine in the Department of Global Health and Social Medicine and in the Department of Sociology at Harvard University. Professor DelVecchio Good's research focuses on the culture and political economy of biomedicine and the clinical realities and moral dilemmas encountered by physicians dealing with biotechnology in the U.S. and internationally (Indonesia, East Africa). She has published extensively on clinical narratives, particularly in oncology and medicine, as well as on the meaning of professional competence and medical errors in medical training and practice. Prof. DelVecchio Good is working with Prof. Byron Good and the IOM to conduct a large-scale evaluation of levels of military violence and trauma suffered by civilian populations in Aceh during the last decade.