People
Directors
Jeanette Kohl – Co-Director

History of Art |

jeanette.kohl@ucr.edu
*on fellowship 2022-23

Jeanette Kohl is an Associate Professor for Italian Renaissance Art in the Department of the History of Art, with interests in deep interdisciplinarity, intellectual history, and medical humanities. She earned her PhD from the University of Trier in Germany. Before joining UCR in 2008, she was an Assistant Professor at the University of Leipzig/Germany and a Visiting Professor at the Friedrich-Schiller-University in Jena/Germany. She is the recipient of a number of international fellowships from the Getty Research Institute, the Kaete-Hamburger Center at Köln University, the NEH, the Max-Planck Institute for Art History in Florence/Italy, the Institute for Advanced Study in Princeton, and the Hamburg Institute for Advanced Study. Learn more about Jeanette.
Dylan Rodríguez- Co-Director
Media & Cultural Studies | dylan.rodriguez@ucr.edu
Dylan Rodríguez is an abolitionist teacher, scholar, and collaborator. He was named to a Freedom Scholar in 2020 and recently served as President of the American Studies Association (2020-2021). He has worked as a Professor at the University of California, Riverside since 2001. Prior to being elected by the faculty to two terms as Chair of the UCR Academic Senate (2016-2020), Dylan served as Chair of the Department of Ethnic Studies (2009-2016). Dylan is the author of three books, most recently White Reconstruction: Domestic Warfare and the Logic of Racial Genocide (Fordham University Press, 2021).
Staff
Katharine Henshaw – Executive

 Director


(951) 827-1555 | katharine.henshaw@ucr.edu
*on campus Mondays/Thursdays or by appointment
Katharine Henshaw received her BA in Philosophy from UC Riverside and joined the Center in 2013. As Executive Director, Katharine manages the Center's programming, personnel, outreach  and initiatives. She is Co-PI for the 2022-24 Faculty Commons Project and also serves as the Administrative Coordinator for the UCR Mellon Mays Undergraduate Fellowship Program.
Renee DeGuire – Administrative Assistant and Events Manager
(951) 827-1556 | renee.deguire@ucr.edu
*on campus Tuesdays/Thursdays
Renee DeGuire began working at UCR in 1989 and joined the Center for Ideas and Society staff in 2010. Renee organizes logistics for in-person events and conferences, handles purchasing and financial transactions, and provides general administrative support for CIS projects. She serves as the liaison for use of Center facilities, including the Stonehaven apartment for visiting scholars.
Jessica DiFilippo – Marketing & Project Coordinator
jessica.difilippo@ucr.edu
* on campus Mondays
Jessica DiFilippo is a graduate from UCR with a BA in Studio Art and holds a Master's in Library and Information Science. Jessica joined the Center in 2015 and manages the Center's promotions, website content and digital media. She also helps coordinate project and travel planning for Center events.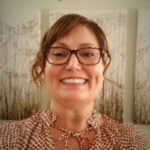 Kathy Ann Hitchens – Grants & Finance Analyst
kathy.hitchens@ucr.edu
*on campus Tuesdays/Wednesdays
Kathy Hitchens received her Master of Business Administration from the University of Redlands and joined the Center in 2021 as the Grants and Finance Analyst.  Kathy manages the Center's finances and contributes to faculty achieving their project goals through grant collaboration and financial analysis.
Bianca Lopez –  Administrative Assistant
(951) 827-1556 | bianca.lopez002@ucr.edu
*on campus Monday/Thursday
Bianca Lopez joined the Center in 2023 and is a recent UCR graduate with a BA in Public Policy and a minor in Spanish. Having her formative years based in San Bernardino County, she is interested in community work and dialogue surrounding infrastructure within the Inland Empire.
Click on the + links below to expand or contract the page.