National Endowment for the Humanities: Narrative in Tandem
Narrative in Tandem is a National Endowment for the Humanities project designed to establish a health humanities program, mutually complementary with the training of health professionals at the new UCR School of Medicine (SOM), the first new Medical School in California in more than 40 years. The timely co-establishment of an HSI health humanities program with a new medical school offers a rare opportunity to improve doctor-patient interactions through the humanities with a medical school that emphasizes a physician workforce committed to wellness and health for the under-served regions of Riverside and the Inland-area communities.
Narrative in Tandem is organized around examining narrative in the humanities and medicine through three approaches of conveying, expressing, and understanding "the symptom." "The symptom" is defined to include both medical and social conditions impacting health experiences from patient/provider to connections with individuals and communities not physically present in the encounter. Over the course of two years, participants from disciplines in the humanities, social sciences and medicine will explore these issues through intersecting activities designed to: 1) contribute knowledge of narrative in health and medicine; 2) develop narrative skills, including course syllabi and activities that can be applied in humanities and medical education; 3) compile seminar discussions to contribute to a larger strategy about integrating humanities and medicine; and 4) lay the groundwork for establishing a vibrant health humanities program at UCR.
To learn more about the NEH Narrative in Tandem project, visit mednarratives.com.
Faculty Coordinators
PI: Juliet McMullin (Associate Professor, Anthropology)
Co-PIs: Tiffany Lopez (Professor, Department of Theatre, Film & Digital Production) and Paul Lyons (Senior Associate Dean, School of Medicine)
Past Events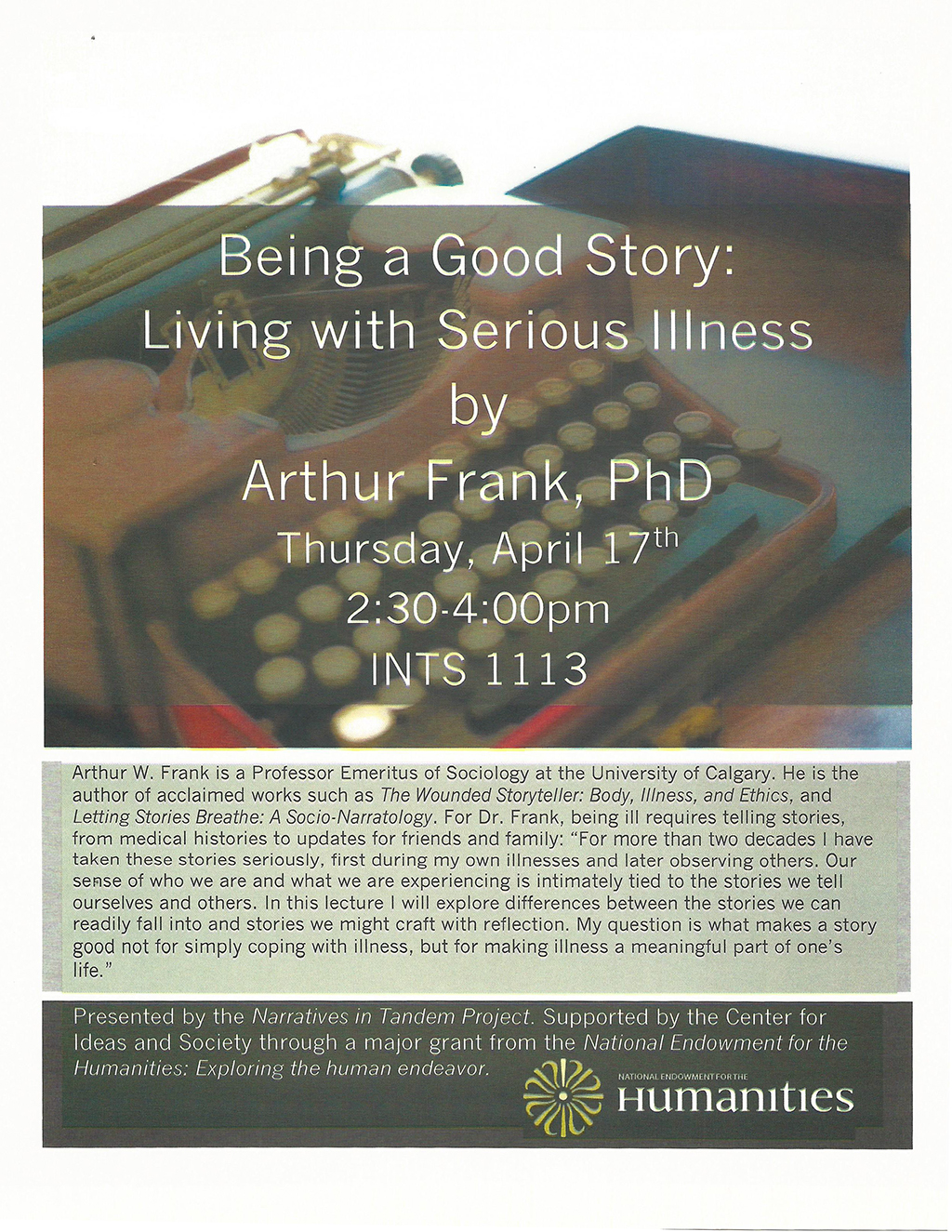 Being a Good Story: Living With Serious Illness – Arthur Frank
Arthur W. Frank is a professor Emeritus of Sociology at the University of Calgary. He is the author of acclaimed works such as The Wounded Storyteller: Body, Illness, and Ethics, and Letting Stories Breather: A Socio-Narratology. For Dr. Frank, being ill requires telling stories, from medical histories to updates for friends and family: "For more than two decades I have taken these stories seriously, first during my own illness and later observing others. Our sense of who we are and what we are experiencing is intimately tied to the stories we tell ourselves and others. In this lecture I will explore differences between the stories we can readily fall into and stories we might craft with reflection. My question is what makes a story good, not for simply coping with illness, but for making illness a meaningful part of one's life."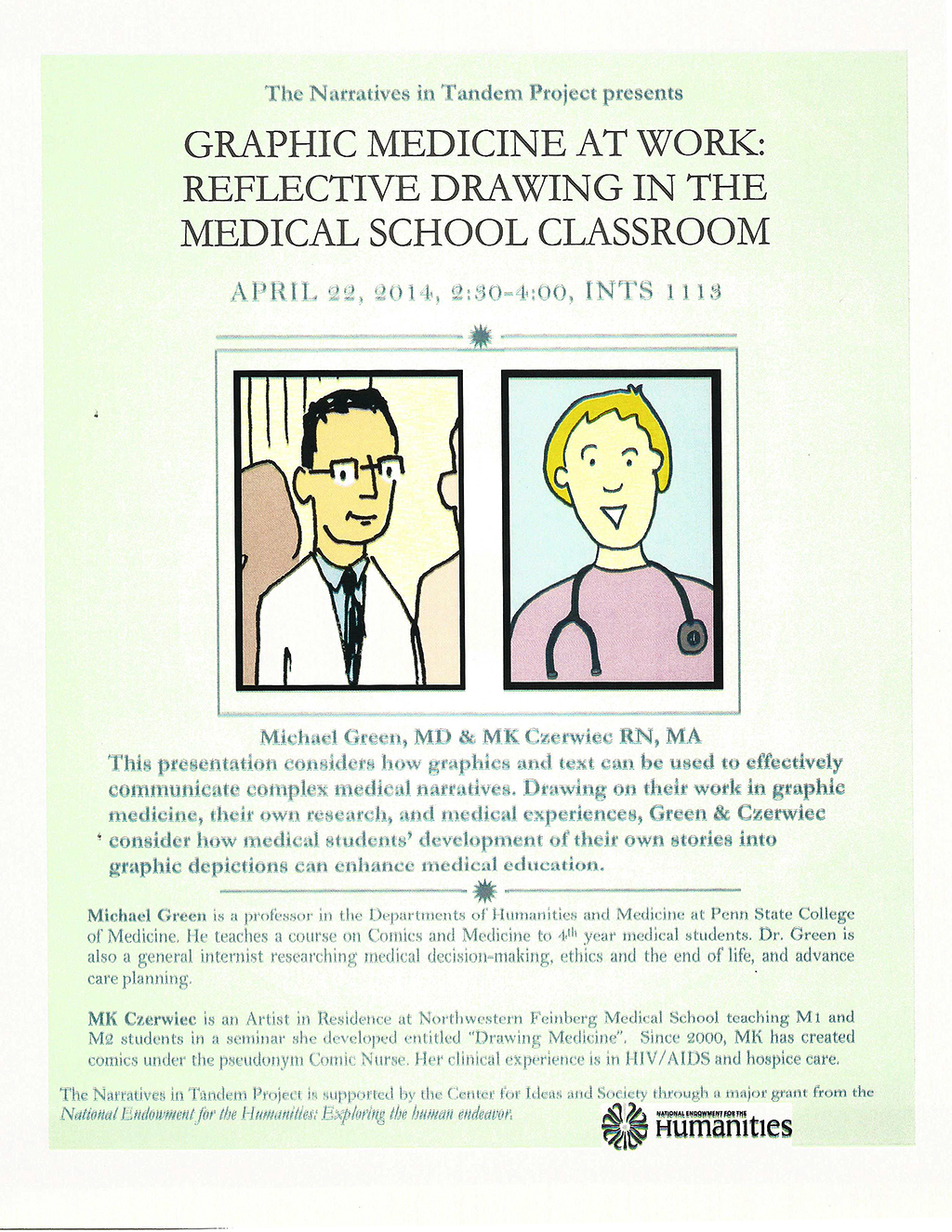 Graphic Medicine at Work: Reflective Drawing in the Medical School Classroom – Michael Green & MK Czerwiec
Michael Green is a professor in the Departments of Humanities and Medicine at Penn State College of Medicine. He teaches a course on Comics and Medicine to 4th year medical students. Dr. Green is also a general internist researching medical decision-making, ethics and the end of life, and advance care planning.
MK Czerwiec is an Artist in Residence at Northwestern Feinberg Medical School, teaching M1 and M2 students in a seminar she developed entitled "Drawing Medicine". Since 2000, MK has created comics under the pseudonym Comic Nurse. Her clinical experience is in HIV/AIDS and hospice care.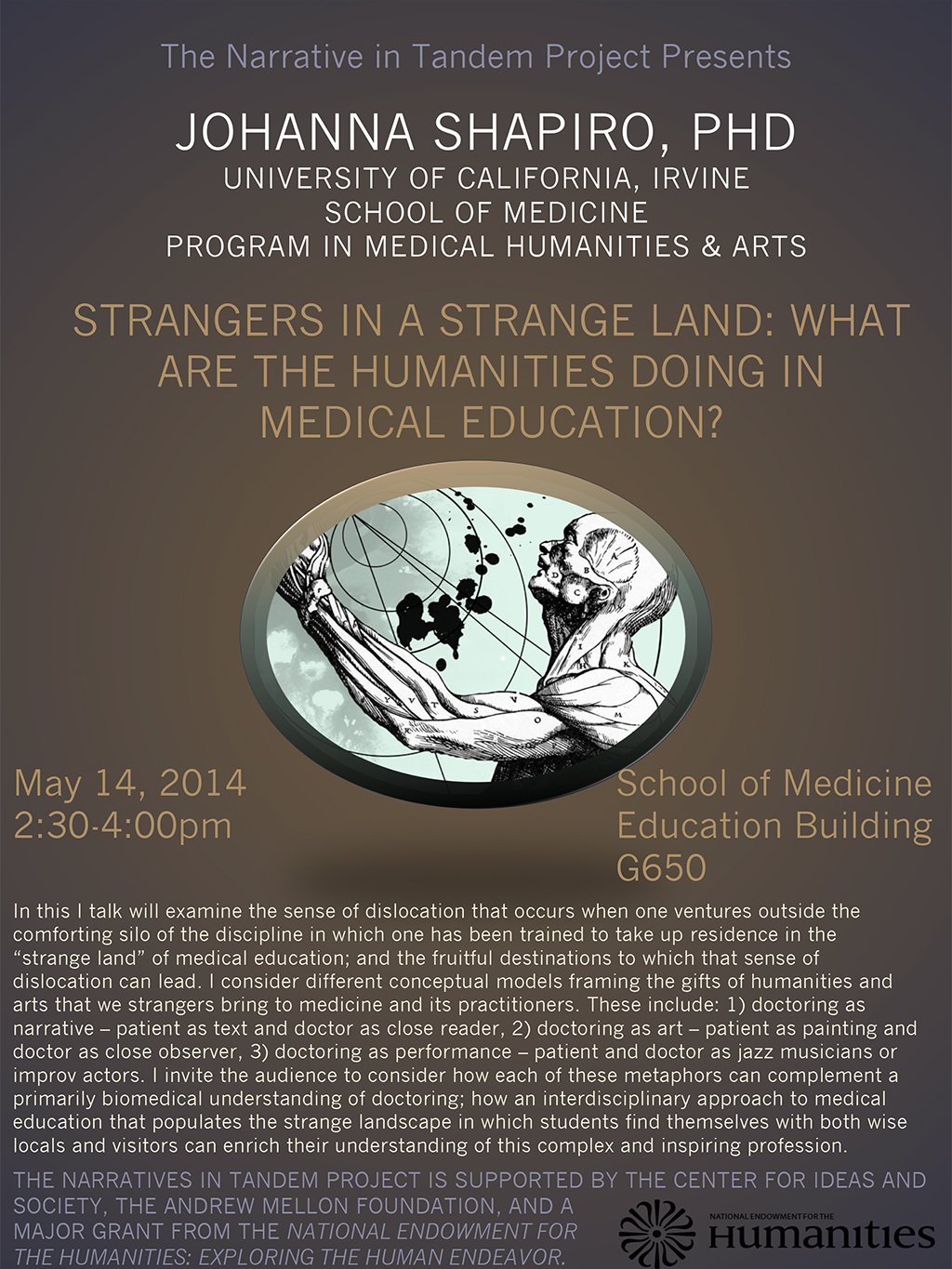 Strangers in a Strange Land: What are the Humanities doing in Medical Education? – Johanna Shapiro
In this I talk will examine the sense of dislocation that occurs when one ventures outside the comforting silo of the discipline in which one has been trained to take up residence in the "strange land" of medical education; and the fruitful destinations to which that sense of dislocation can lead. I consider different conceptual models framing the gifts of humanities and arts that we strangers bring to medicine and its practitioners. These include: 1) doctoring as narrative – patient as text and doctor as close reader, 2) doctoring as art – patient as painting and doctor as close observer, 3) doctoring as performance – patient and doctor as jazz musicians or improv actors. I invite the audience to consider how each of these metaphors can complement a primarily biomedical understanding of doctoring; how an interdisciplinary approach to medical education that populates the strange landscape in which students find themselves, with both wise locals and visitors, can enrich their understanding of this complex and inspiring profession.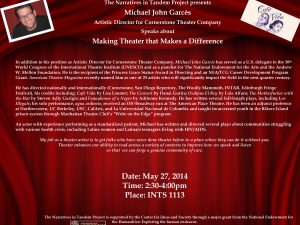 Making Theater That Makes a Difference – Michael John Garcés
In addition to his position as Artistic Director for Cornerstone Theater Company, Michael John Garcés has served as a U.S. delegate to the 30th World Congress of the International Theatre Institute (UNESCO) and as a panelist for The National Endowment for the Arts and the Andrew W. Mellon Foundation. He is the recipient of the Princess Grace Statue Award in Directing and an NEA/TCG Career Development Program Grant. American Theatre Magazine recently named him as one of 25 artists who will significantly impact the field in the next quarter century.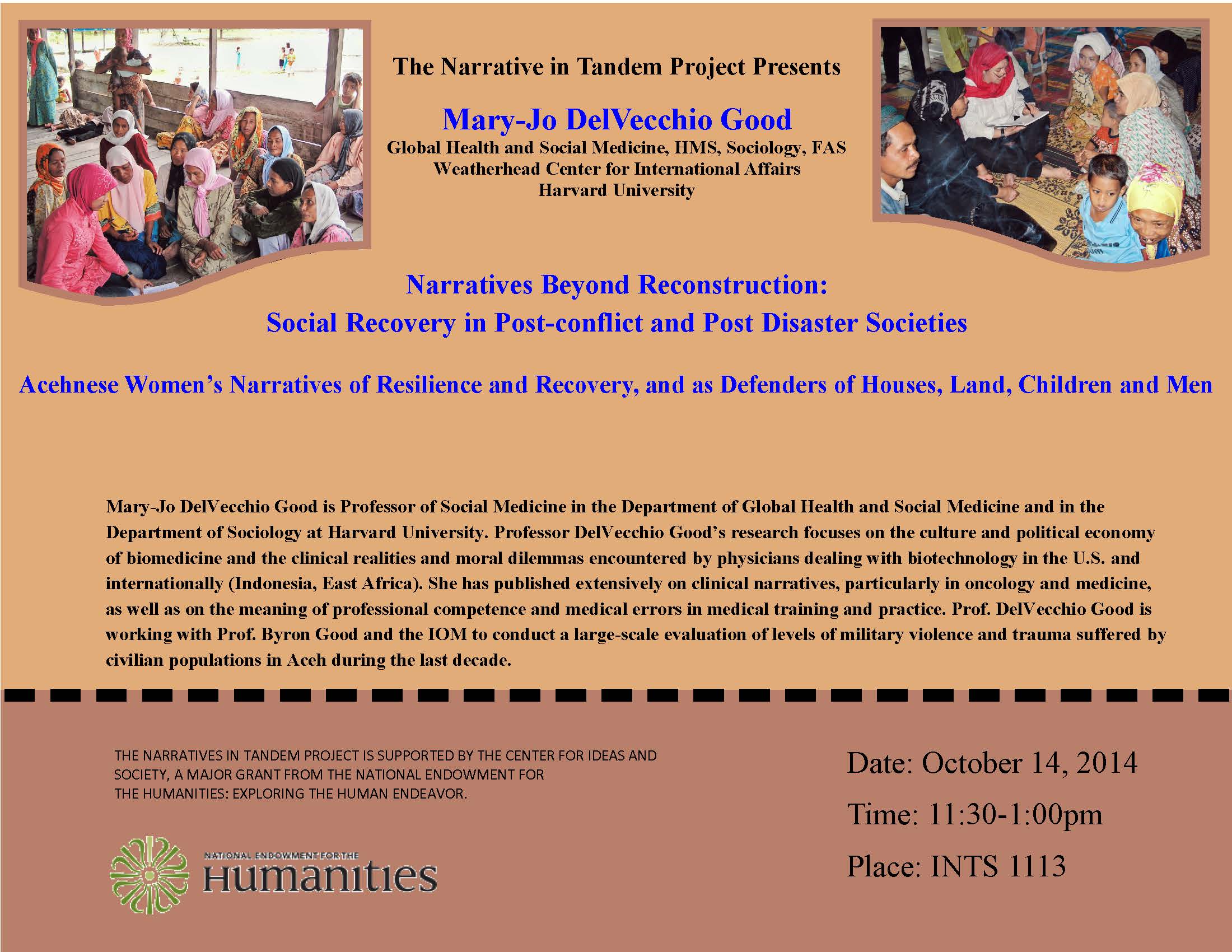 Narratives Beyond Reconstruction: Social Recovery in Post-conflict and Post Disaster Societies – Good & Hannah
Mary-Jo DelVecchio Good is Professor of Social Medicine in the Department of Global Health and Social Medicine and in the Department of Sociology at Harvard University. Professor DelVecchio Good's research focuses on the culture and political economy of biomedicine and the clinical realities and moral dilemmas encountered by physicians dealing with biotechnology in the U.S. and internationally (Indonesia, East Africa). She has published extensively on clinical narratives, particularly in oncology and medicine, as well as on the meaning of professional competence and medical errors in medical training and practice. Prof. DelVecchio Good is working with Prof. Byron Good and the IOM to conduct a large-scale evaluation of levels of military violence and trauma suffered by civilian populations in Aceh during the last decade.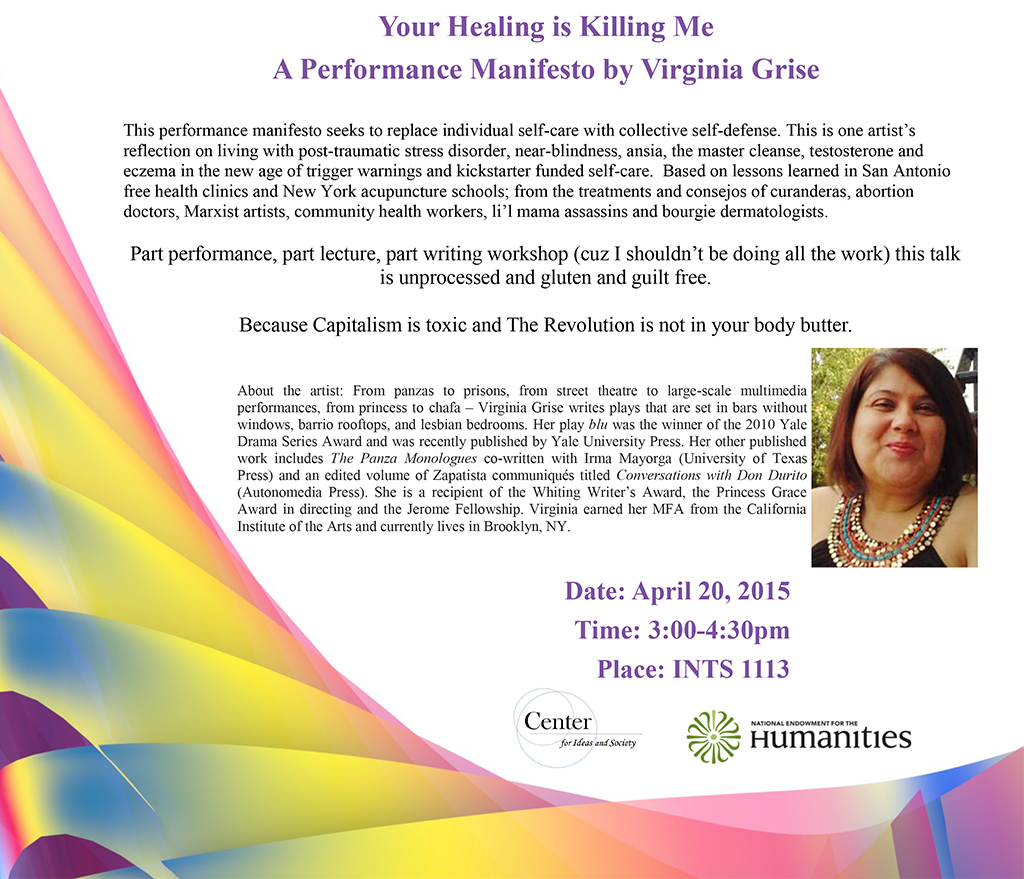 Your Healing is Killing Me – Virginia Grise
About the artist: From panzas to prisons, from street theatre to large-scale multimedia performances, from princess to chafa – Virginia Grise writes plays that are set in bars without windows, barrio rooftops, and lesbian bedrooms. Her play blu was the winner of the 2010 Yale Drama Series Award and was recently published by Yale University Press. Her other published work includes The Panza Monologues co-written with Irma Mayorga (University of Texas Press) and an edited volume of Zapatista communiqués titled Conversations with Don Durito (Autonomedia Press). She is a recipient of the Whiting Writer's Award, the Princess Grace Award in directing and the Jerome Fellowship. Virginia earned her MFA from the California Institute of the Arts and currently lives in Brooklyn, NY. To view event photos visit the event gallery.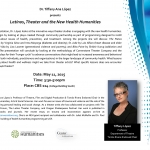 Latinos, Theater and the New Health Humanities – Dr. Tiffany Ana López
In this presentation, Dr. López looks at the innovative ways theater studies is engaging with the new health humanities. She will begin by looking at plays created through community partnership as part of programming designed to instill awareness about issues of health, prevention, and treatment. Among the projects she will discuss: The Panza Monologues by Virginia Grise and Irma Mayorga (diabetes and obesity); St. Jude by Luis Alfaro (heart disease and elder care); Café Vida by Lisa Loomer (generational violence and poverty); and Bliss Point by Shishir Kurup (addiction and recovery). The presentation will conclude by looking at the methodology of Cornerstone Theater Company and the building of plays for their "hunger cycle" to advance conversations that might lead to increased awareness and behavioral change (for both individuals, practitioners and organizations) in the larger landscape of community health. What lessons for thinking about health and wellness might we take from theater artists? What specific lessons does one encounter within Latina/o theater?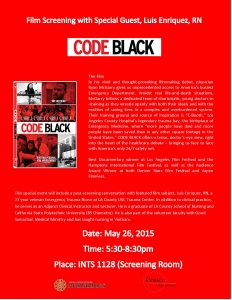 "Code Black" Film Screening with Luis Enriquez
This special event will include a post-screening conversation with featured film subject, Luis Enriquez, RN, a 27 year veteran Emergency Trauma Nurse at LA County USC Trauma Center. In addition to clinical practice, he serves as an Adjunct Clinical Instructor and Lecturer. He is a graduate of LA County School of Nursing and California State Polytechnic University (BS Chemetry). He is also part of the volunteer faculty with Good Samaritan Medical Ministry and has taught nursing in Vietnam.