May 26 at 9:30am-5:00pm
CHASS Interdisciplinary South 1113 / Zoom
Please join us for the Unarchiving Blackness Symposium on Friday, 5/26 at 9:30am, the final event in the Mellon Sawyer Seminar at UC Riverside on the creative reconsideration of archives in African & African Diaspora Studies.
This free event is IN-PERSON at INTS 1113, with a Zoom option for the audience.
Event Program
⫸ 9:15am – Welcome from the director of the Center for Ideas & Society, Dylan Rodríguez (Media & Cultural Studies/Black Study)
⫸ 9:30am –  Restorative History, a Keynote by Tsione Wolde-Michael, Smithsonian National Museum of American History, Bearing Center.
Tsione Wolde-Michael is an arts administrator, historian, and curator. She is the founding director of the Center for Restorative History at the Smithsonian's National Museum of American History. Her work focuses on redress and restorative justice in museums through innovative approaches to community engagement, collections management, cultural heritage, archival work, and exhibitions. Her international work in Ethiopia, Mozambique, South Africa, and the United Kingdom has focused on collaborating with local art and public history institutions to reinterpret colonial collections. Her shows include the landmark Slavery and Freedom exhibition at the National Museum of African American History and Culture, where she served as inaugural staff. She holds a bachelor's degree in Women and Gender Studies from Macalester College and her Master's in History from Harvard University.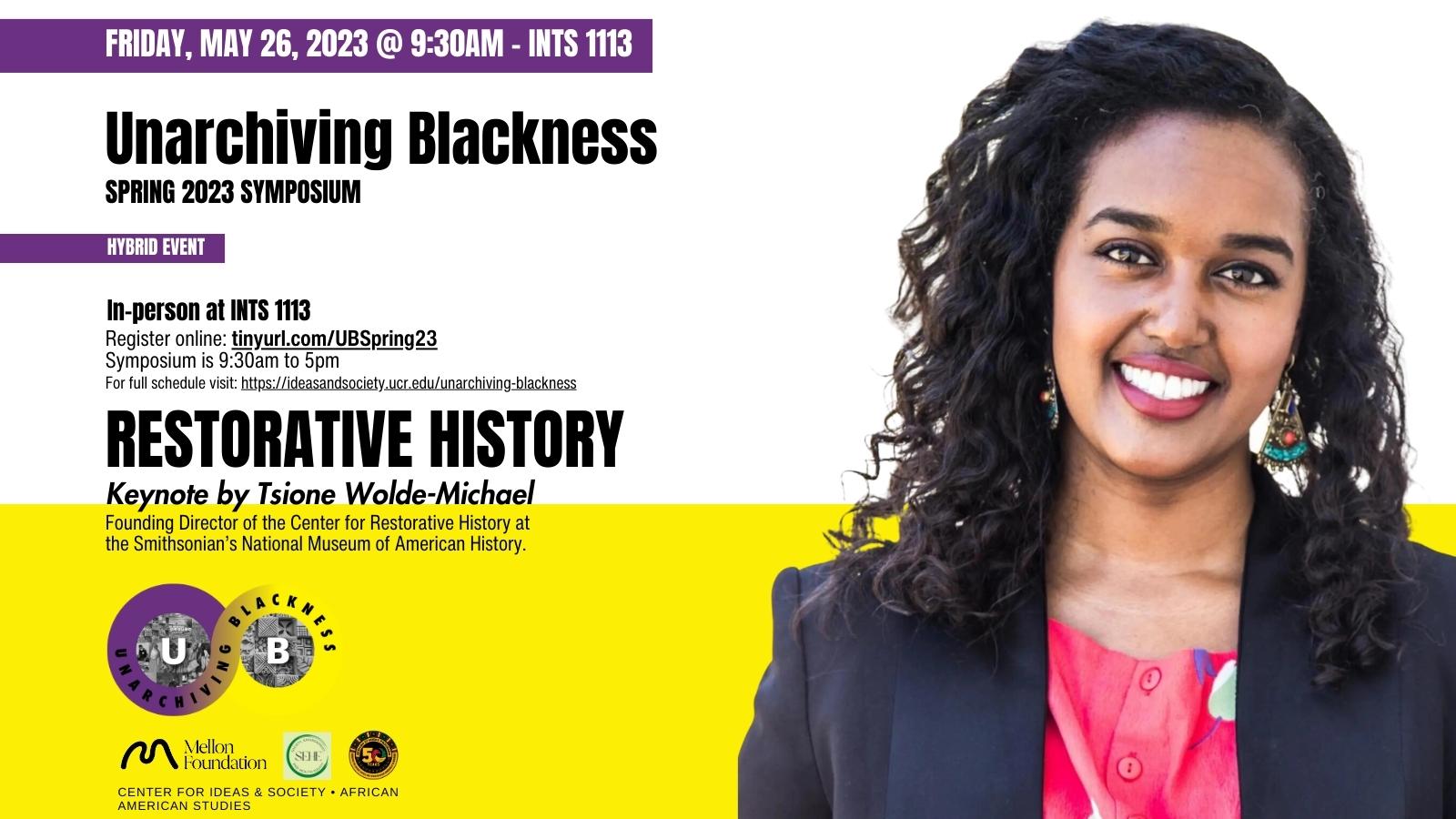 ⫸ 11:15am –  Roundtable on Race, Technology, and Archival Futures
Kim Butler (Rutgers University)
Kenton Ramsby (University of Texas)
Ra Malika Imhotep (UC Berkeley)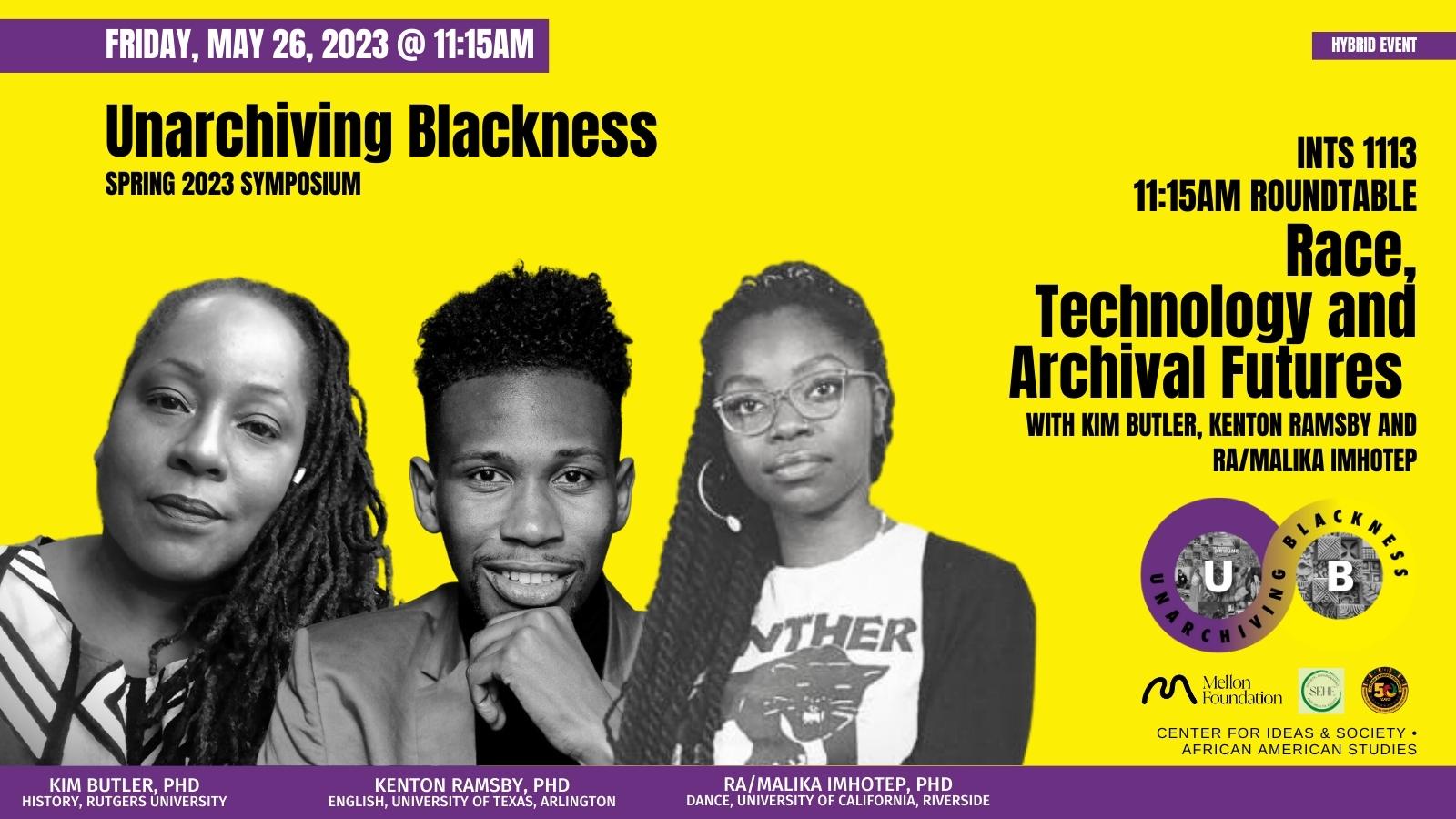 ⫸ Lunch on campus
⫸ 1:45pm – Emerging Scholarship Panel
Abdulbasit Kassim (Religious Studies, Unarchiving Blackness postdoctoral fellow) on ecologies of knowledge in non-Europhone African archives
Utitofon Inyang (Comparative Literature, graduate student fellow) on de/fragmentation in African & Diaspora Art & Literature
Grecia Perez (Anthropology, graduate student fellow) on water as an archive in Indigenous and Afro-Mexican communities of Oaxaca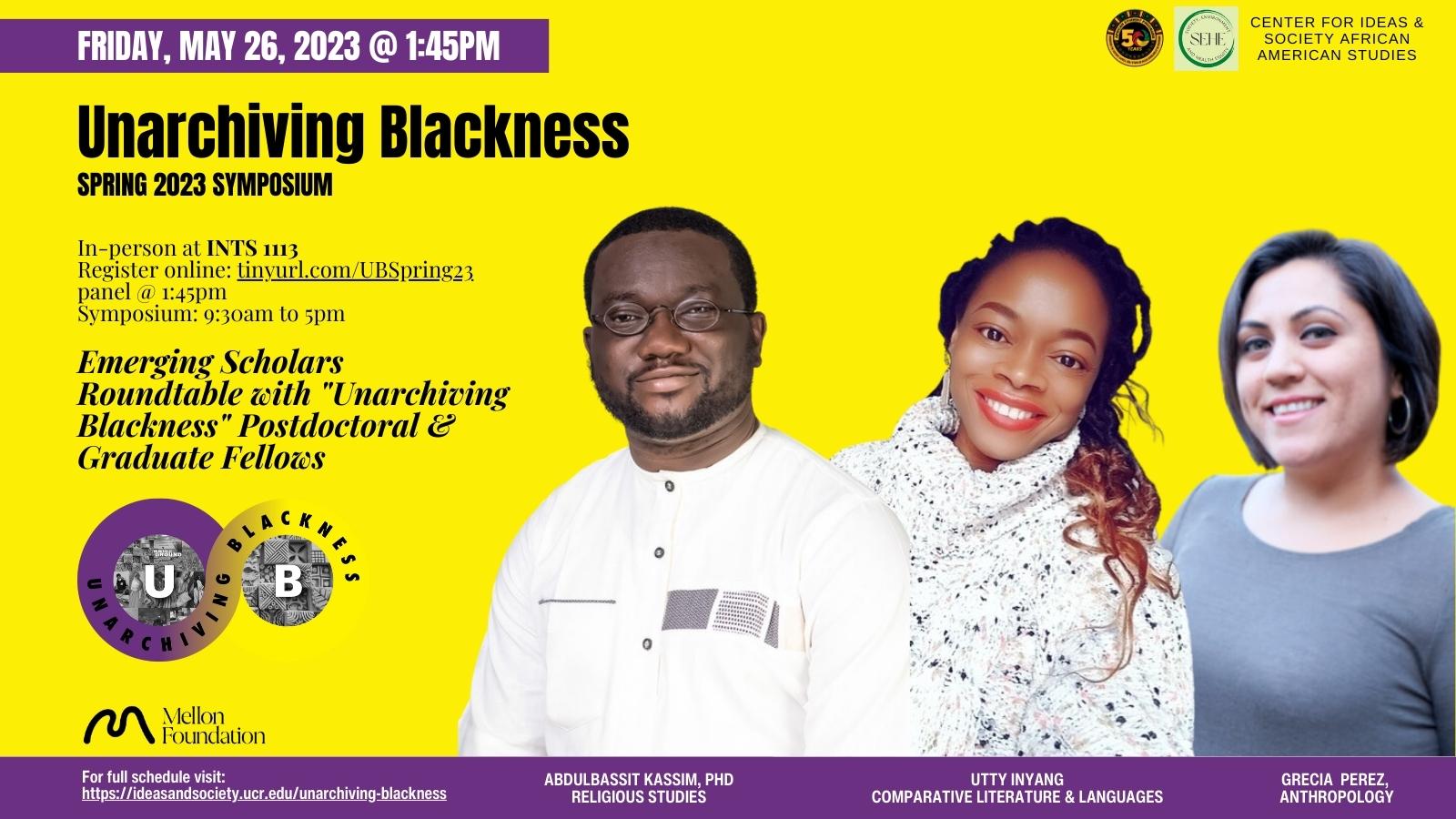 ⫸ 3:15pm –  Reflections from the Seminar Faculty
Ademide Adelusi-Adeluyi (UCR, History)
Jody Benjamin (UCR, History)
andré carrington (UCR, English)
Ayana Flewellen (Stanford University, Anthropology)
Jade Sasser (UCR, Gender & Sexuality Studies)
⫸ Followed by a closing performance and catered reception