Bella Merlin
Advisory Committee Member, Center for Ideas and Society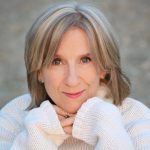 Department: Theatre Film and Digital Production
Rank: Professor
# of years at UCR: 7
Top three texts I would take to a desert island: The Complete Works of Shakespeare (because I haven't read them all yet); The Toe-Rags by Daphne Anderson (a poignant memoir of growing up in Southern Rhodesia by my husband Miles's mother); The God on the Hill: Temple Poems from Tirupat by the fifteenth-century saint Annamayya (these poems wring my heart every time).
Favorite things with favorite beings: Walking with my husband, Miles, and our rescue dog, Dempsey, whom we adopted the day before lockdown in March 2020. She has not only saved our emotional sanity, but she also makes us laugh from the moment we wake up till the moment we go to sleep.
Something people might be amazed to know about me: It never occurred to me I'd be a university professor: I always thought I'd be a "movie star" or a singer-songwriter.
An "adventure" I am looking forward to, post-pandemic… A road trip with Miles and Dempsey to New Mexico. And then go see my family in the UK. I miss them.
My theme song: "All you need is love" by The Beatles
Personal website: www.bellamerlin.com
Q: Your research agenda summed up in one sentence:
My "research agenda" is pretty much my "life agenda": to investigate and incarnate the invaluable role that actors play in how human beings collectively make meaning out of this extraordinary experience called Life.
Q: Is there a theme or central question that organizes your work?
I have always been passionate about acting as a serious human activity and stories as vital collective experiences. So, in both my creative activities as an actor and my practice-based research as a scholar, I'm probing how we can use fundamental actor-training tools to expand our capacity for empathy, insight and compassion. This central question has taken various avenues (and a few 'dead ends') over the years, but ultimately it all boils down to celebrating and elevating the mysterious activity of embodying other people and sharing that embodiment with audiences.
Q: What are you working on now, given that most performance venues have shuttered during the pandemic?
My current projects are taking me in a somewhat new direction: dramatic writing. At this very moment (January 2021), I'm composing five songs for a new Zoom-play to be created with UCR students in Spring 2021 entitled 20:20 Vision. I'm also in the research phase of a television drama called The 3AM Club, exploring what happens when our bodies are doing things (like getting older…), but we don't necessarily feel we're ready for them to do those things yet.
Q: What inspired this change of mode/direction?
I'd just finished co-authoring a book (Shakespeare & Company: When Action is Eloquence, my seventh academic tome), when I had a heart-felt drive to stop writing non-fiction books and, instead, explore the manifestation of stories through dramatic means. An inner rebel was rousing up inside. This inner rebel-rousing came (perhaps not by accident) just as COVID-19 was changing our lives. Since acting in both stage and screen 'holds a mirror up to nature,' it seemed imperative to provide my students with a means of recounting their own COVID experiences through the dramatic medium (which is what 20:20 Vision entails). Meanwhile, the place where I live – the foothills of the San Gabriel mountains in Sunland-Tujunga, near Los Angeles – has been a daily companion in my COVID-lockdown experience: there seemed to be a story striving to be born (The 3AM Club) about connecting a particular human body (i.e., mine) to the permanence, enormity and Native American ancestry of the surrounding land. It's also about the body in transition: for women into menopause, the transition between genders, and the male body into older age. I'd written two one-woman theatre pieces before, but I've never been brave enough to try screenwriting. Yet I'm surrounded by terrific film and television professors (actors, directors, writers, dramaturgs) in my own department: so why not learn from their insights and experience? And I'm hoping at least two of them will be involved in the eventual manifestation of the project.
Q: Many people profess terror at the thought of "getting up in front" of an audience. What do you say when folks ask you why you love to do it?
How can one not love acting? It's the ultimate transformative, transcendent experience. To put one's own body, imagination, intellect, emotional landscape, spirit, heart at the service of another (the written character) is an artistic adventure of the most holistic kind. To take an audience on a journey that they might never have thought to go on before can enable us (actors and audience alike) to see other perspectives, other world views, other experiences. It is a collective act that can be healing, thought-provoking, empathic, and galvanizing in unexpected ways. Yes, it can feel terrifying – because it's vulnerable and important. But ultimately, it's fun!
Q: Turning to the academy, what is one thing you would change, if you could?
…it would be to change, once and for all, the ways in which the arts, humanities and social sciences are viewed. Qualitative, experiential research is all too often undervalued, under-resourced, under-funded, and undermined. In the arts, we are training something invaluable to all human beings: imagination. Elon Musk wouldn't have reached space without imagination. Pfizer wouldn't have come up with a vaccine without imagination. There would certainly be no artificial intelligence without human imagination. And in the performing arts, we're training the embodiment of imagination: an electromagnetic communication between living, breathing human beings, which is manifested when we truly listen and connect. If I could change STEM to ASTEM, I'd be happy.
Q: Do you have a favorite resource that you find yourself often recommending?
That's tough, there are many great resources, and even more being created during this lockdown time. Also, I find myself constantly shifting my 'favorite' resources, as acting constantly shifts according to what's happening socially and globally. That said I love listening to Tami Simon's 'Sounds True: Insights at the Edge' podcasts and Bryce Michael Wood's 'For Your DisComfort'. Both of these podcasts certainly inform my teaching. For my students, I've found Intimacy Directors International's '5 Pillars of Intimacy' very useful when working in the classroom, rehearsal room or on set.
Q: What have you learned from teaching students?
I have learned that I am always learning. My students teach me all the time. In an acting class, the students are the curriculum. So, I never really know what's going to happen during the term until I meet the group and understand what their desires and ambitions for themselves and the course may be. Perhaps one of the most valuable lessons I learned from my mentor and actor trainer Vladimir Ananyev is 'Catch people doing things rights.' Because acting is so vulnerable, I strive to nurture each student's confidence and playfulness, before we start fine-tuning and correcting.
Q: How has Zoom impacted this kind of classroom connection?
I've found that Zoom actually brings a new kind of intimacy. It has surprised me how quickly we can create a classroom community, despite not being in the same room together. And using the Chat for the students to give each other feedback on their performance work means that everyone has a chance to share their responses and therefore everyone's perspective is granted equal valence – not just the two or three who put up their hands or from whom we have time to hear.
Q: What university service opportunity have you found to be rewarding?
I have served on the Student Conduct and Academic Integrity Programs Committee since I arrived at UCR in 2014: I love this committee. I appreciate the deepened understanding of challenges students may be facing that might cause them to 'err' in judgement. I appreciate the student committee members' sense of fairness and their deep valuing of UCR's academic integrity. I enjoy striving to find ways of guiding individuals towards better choices in the future.
***
In Focus is a interview series that features faculty associates of the Center for Ideas and Society.