Worku Nida
Developing African Studies Initiative Participant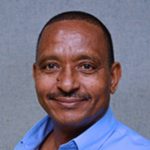 Department: Anthropology
Rank: Assistant Teaching Professor of Anthropology
# of years at UCR: This is my 5th year.
Top three texts I would take to a desert island: 1) Mediocre, by Ijeoma Oluo, which I am reading now; 2) A Promised Land, by Barack Obama, 3) WE WANT TO DO MORE THAN SURVIVE, by Bettina Love.
Favorite activities: Tennis in sport, music (Ethio-jazz, various ethnic music), love museums and open-markets, walking, kitfo (Ethiopian dish)
Something people might be amazed to know about me: That I have a multiracial and multicultural family.
An "adventure" I am looking forward to, post-pandemic: My wife and I have a plan to have a large out-door post-pandemic party.
Q: Your research agenda summed up in one sentence:
My research examines how people craft their identities through migration, entrepreneurship, and diasporic processes.
Q: Is there a main focus or issue your work is trying to explore?
The central question my research addresses is how identities are formed and shaping people's life chances.
Q: What can you tell us about your current project?
My current project is investigating the so-called "random" police searches in high schools and students resistance against such policy in LA.
Q: What led you to this topic?
This project evolved from my voluntary teaching cultural anthropology to disadvantaged minority students at an alternative high school in LA.
Q: What do you love about your work?
Teaching, and helping my students develop critical thinking skills.
Q: Is there a tool or resource that helps teach this important skill in a "virtual" classroom?
Critical Thinking Writing assignments where students engage course materials in juxtaposition with their own lived experiences.
Q: What would you change about the academy, if you could?
I would allocate a lot resources to make it more meaningful and accessible to all types of students, especially, those who are disadvantaged and marginalized.
Q: What is the most important thing that professors learn in the classroom?
One of the most valuable lessons I gained from teaching is that I can learn a great deal from my students.