Thomas Cogswell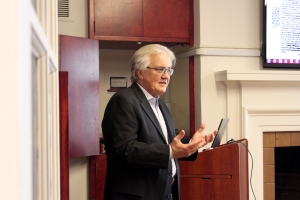 Department: History
Rank: Distinguished Professor
# of years at UCR: 21
Top three texts I would take to a desert island: Robert Caro's volumes on Lyndon Johnson, Ben Jonson's Bartholomew Fair, and Melvin Bragg's podcast In Our Time.
Favorite foods: A toss up. A nice Mysore Masala Dosa or Korean Tofu Hotpot.
Something people might be amazed to know about me …. I love exploring cities, one neighborhood at a time.
An "adventure" I am looking forward to: Returning to the Hoover Wilderness in the Sierras and the archives. Not simultaneously, of course.  But what if they moved the British Library and the Kew Archives to Yosemite?  I know. A harmless drone.
Little known – but fun!- resource: earlystuartlibels.net/htdocs/index.html
–
Q: My research agenda summed up in one sentence:
How vicious rumors, scurrilous outbursts and rude libels helped Britain descend into revolution in the mid-seventeenth century.
Q: What is your current topic of research?
Figuring out why Lt. John Felton stabbed the Duke of Buckingham in 1628.
Q: Your research and writing goals have shifted in the past few years. Why?
Having produced a small mountain of proper [i.e. boring] scholarship [yawn], I now want to write things people might want to read.
Q: What is your favorite part of research?
Reading other people's mail … that is four centuries old.
Q: If you could make one change to "the academy," what would it be?
More tolerance and charity, less pomposity and pettiness.
Q: What books or resources do you often recommend to students?
G.E. Cokayne'sComplete Peerage, the Anglo-Saxon poem The Battle of Maldonand short clips from Monty Python and Terry Deary's Horrible Histories.
Q: Any advice on how to capture students' attention in lecture?
Abandon the podium and roam around the classroom, and use LOTS of visual images and music.
***
In Focus is a interview series that features faculty associates of the Center for Ideas and Society.