Victoria Reyes
Participant, Mellon Advancing Intercultural Studies, Contested Histories Seminar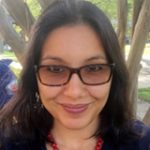 Department: Sociology
Rank: Assistant Professor
# of years at UCR: Entering 4th year at UCR but 3rd year on campus because during my first year I was on leave for a Postdoc at University of Michigan
Top three texts I would take to a desert island: This is a difficult one…I'd say I would take my phone and internet connection
Favorite thing: Philippine brand dried mangoes
Website: www.victoriadreyes.com
Q. Your research agenda summed up in one sentence:
I study culture, borders, and empires.
Q. Is there a specific question that arises in the intersection of these topics?
The question of territoriality – what is it? What does it look like in practice and on-the-ground? How has it changed over time?
Q. You have a new book out- congratulations!
Yes, thanks! I recently published my first book, Global Borderlands: Fantasy, Violence and Empire in Subic Bay, Philippines (Stanford University Press), and received an AAUW Postdoctoral American Fellowship to work on my second project during 2019-2020. Read UCR News article about Reyes' book >>
Q. Why 'borders' in particular? What sparked your interest?
My initial interest was sparked by my grandmother's migration story through marriage to a US serviceman. Her nostalgia of the former base in the Philippines clashed with my undergrad classes on empire. I was also fascinated by what sociologists call the socio-cultural boundary-making within the Filipino American community as my grandmother was ostracized, in part because marriage migration can have a stigma of sex work attached to it.
When I went to Subic Bay, Philippines, home to a former US naval base, the differences between inside what was now a special economic zone and outside further intrigued me and the first time I saw a military ship docked, I remembered my grandmother's awe.
So the borderlands I'm interested in are what I call global borderlands – legally ambiguous places (like overseas military bases, special economic zones, embassies, cruise ships and the like) where rules of life differ within their walls and which are symbolically seen as either arms of empire or as ways to be a part of a modern, cosmopolitan community. It's this tension that I'm fascinated by.
Q. What are you working on now?
My current project is on reputation of places, how it is differently racialized and gendered by authors and audiences. I'm particularly interested in state attempts to shape place reputation and how that compares to narratives of places on-the-ground.
Q. What do you love about your work?
Everything! I love being able to research what I want, teach interesting subjects to bright students and engage in service work I find fulfilling.
Q. What is your top 'take away' from teaching?
The most valuable lesson that teaching has taught me is that the classroom is a partnership between myself, the TAs, and each student. We all learn from one another. Each and every student has something to contribute and I find UCR students to be inspiring.
Q: Given that you love your work, if you could change one thing about the academy….
It would be for the academy to be more inclusive. I dedicate my service time to DEI issues (whether on the UCR Senate's Diversity, Equity and Inclusion committee, writing advice columns, or establishing new awards for grad students, publicly engaged work and teaching).
Q. Do you have a favorite podcast to recommend?
I've been listening to the podcast "Stay Tuned with Preet" which is hosted by Preet Bharara, a former US Attorney for the Southern District of New York. It's an informative take on contemporary U.S. politics under the Trump administration and he and his guests break down what various indictments, reports, and other legal matters mean in lay terms (e.g., like the Mueller Report).
Q. Any interesting facts about you that might surprise people?
I have aphantasia, which means I have zero visual processing and don't have a "mind's eye." I always thought comments like "day dreaming" or how characters looked different on screen than how they imagined when reading books were metaphors! It amazes me that other people can visualize things. I'm also a true crime buff and spend whatever free time I have (which isn't a lot with a 5 year old and a 1 year old!) reading about unsolved mysteries.
—
In Focus is a new interview series that features faculty associates of the Center for Ideas and Society.