Juliet McMullin
Convener, Inequities in Health, Faculty Commons Project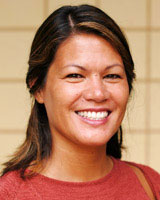 Juliet's Stats:
Department: Anthropology
Rank: Professor
Years at UCR: 14
Favorite Thing: Chocolate. It is such a favorite thing that I host bi-annual chocolate parties.
Book I'm reading right now: Heart Berries by Terese Marie Mailhot.
Personal Website: www.julietmcmullin.com
Q. Your research agenda summed up in one sentence:
My research agenda is designed to examine the production of inequality and its manifestations in health and wellness.
Q. Are there particular questions that stand-out for you within this framework?
While the topic of my research is health inequalities, I really see the problem that my research engages as inclusion and community building. I am curious about how we include different perspectives while building a common project. What do we do with voices/bodies that don't conform? What is the role of storytelling in community building? Do we make spaces that respect difference, respect different experiences and stories? Or do we silence and segregate? How we define, experience, and organize ourselves produces specific forms of inequity that allow some to thrive and exacerbate suffering for many.
Q. What project are you working on now?
That's a funny question because I typically have at least three ongoing projects that delve into different facets of the questions that interest me. I'll just mention two projects now. One project is a community engagement effort with Riverside/San Bernardino Indian Health and tribal community members. We are collaboratively developing a historical trauma curriculum for health care providers who serve Native people. Too often, when physicians come to work for Indian Health Services they have no knowledge about the history of Native people and how that history affects their health. Indeed, many in this area don't know that these are the current and ancestral lands of the Cahuilla, Tongva, Serrano, Luiseño, Cupeño and Kumeyaay Peoples. The content of our curriculum will honor the individual, historical and political experiences of these tribes that physicians need to know in order to provide better care. The second project that gives me a lot of joy builds on my long term work in the relations of cancer. For this project I am working with people who have been diagnosed with cancer to create comics about their medical and personal experiences. This is both a narrative/life history project and a project that explores how storytelling in the form of comics enhances personal and interpersonal understandings that might improve health and wellbeing. Finally, in my spare time, I am working on an ethnography of the graphic medicine community. Thinking around how this diverse group of artists and scholars come together around the comics medium, and how they engage the inherent inequities in our medical systems.
Q. Any recent developments on these projects, or other ideas that you've been working on?
The historical trauma project is supported by a community engagement award from Patient Centered Outcomes Research Institute. Our research group, faculty and community members, are planning our trip to Aotearoa to present our work at the Native American and Indigenous Studies Association Conference. My colleague Kristyn Pellecchia and I recently received funding from the CSU Palliative Care Institute for a project to build a Humanities based curriculum for medical students on Death and Dying. I have a few papers from each of these projects, that have been developed and written in collaboration with graduate students, colleagues, and community partners. And in my other pocket of spare time, I've spent the past couple of years collaborating and developing a Minor in Medical and Health Humanities. We are awaiting final approval.
Q. What is the most valuable thing that you have learned from teaching?
Be curious. We rarely truly know what is going on in our students lives. Many students are struggling with food insecurity, housing, family and personal relationships. When they show up to class, they are bringing their best with them. What ever their best is, it is our job to use their best and to deliver on the opportunities for critical thinking and innovation that an education in a top public research university is supposed to provide.
—
In Focus is a new interview series that features faculty associates of the Center for Ideas and Society.