Audra Mitchell holds the CIGI Chair in Global Governance and Ethics at the Balsillie School of International Affairs, located on the lands of the Haudenosaunee, Anishinaabe and Attawandaron peoples (Waterloo, Canada). She is a founding member of the Creatures' Collective, an international group of Indigenous and non-Indigenous researchers, knowledge keepers, activists and artists concerned with resisting global extinction. Having previously worked in the field of violence studies, Audra is working to theorise the structural violences that drive global extinction, and to support decolonial efforts to dismantle them. You can read about her work on her blog: worldlyir.wordpress.com.
The STS Methods series tracks methods by which we surface and elucidate sociotechnical objects, systems, networks, infrastructures, and things.
Download flyer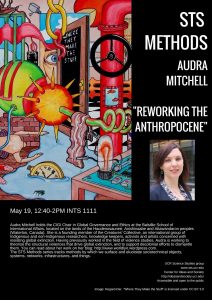 Image: NogardDer, "Where They Make the Stuff" is licensed under CC BY 3.0
—
Free and open to the public.
Free parking for non-UCR guests by RSVP to cisevents@ucr.edu.