Center for Ideas & Society Fellows
Senior Fellows (2016-2019)
Paulo Chagas (Music)
Sonic Imaginations: Sound Studies, Sound Practices and Sound Creativity
Paulo C. Chagas is a Brazilian composer, active in Europe, Brazil and the USA. He studied composition at the University of São Paulo (1973–9), earning a bachelor's degree. He then studied composition, orchestration and analysis at the Liège Conservatoire (1980–2), and electronic music composition at the Academy of Music in Cologne (1982–9). His works have resulted from numerous commissions and fellowships from 1977 to the present and have been performed in Russia, Germany, Belgium, France, South Korea, the USA, and Latin America to public and critical acclaim.
Christine Schwenkel (Anthropology)
The Afterlife of Solidarity: Vietnamese Reanimation of Urban 'Ruins' in Eastern Germany
Professor Schwenkel's current work examines the legacies of socialist humanitarian practices and transnational mobilities between Vietnam and former East Germany, in particular, Vietnamese contract labor programs in German factories and East German architectural/urban planning projects in Vietnam. In 2010-2011, Professor Schwenkel conducted historical and ethnographic research in Vinh City, Vietnam on postwar socialist urbanization and postsocialist/neoliberal urban renewal.
Jason Weems (History of Art)
Inventing the Americas: Art, Archaeology, and the Modern Making of a Pre-Columbian Past
"My approach to American art is shaped by the study of works of art, visual objects and instances of cultural interplay that are often overlooked in more mainstream art historical scholarship. I am an active supporter of the integration of visual culture into the study of American art. But I also perceive a need for continued refinement of our models for thinking across frameworks of knowledge and expression, and for the balanced integration of interdisciplinary interests into the already rich methodologies of art history."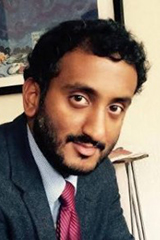 Ajay Verghese (Political Science)
The Last Days of Magic: Religiosity in Modern India
Ajay Verghese is an Assistant Professor of Political Science at the University of California, Riverside. He received a BA in 2005 from Temple University and a Ph.D. in 2013 from The George Washington University. His research interests are focused on South Asian Politics, Political History, Ethnicity, Political Violence, Secularism, and Methodology. He was a post-doctoral fellow from 2012-13 at the Asia-Pacific Research Center at Stanford University, and an Assistant Professor of Political Science from 2013-15 at the University of South Florida St. Petersburg.