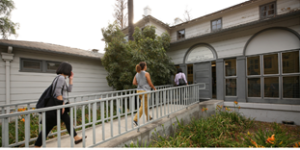 We the members of the Advisory Committee for UC Riverside's Center for Ideas and Society learned with grave disappointment that the university will not preserve College Building South, which has been the Center's home for nearly a decade. This historic structure, built in 1916 as a residence for the Director of the Citrus Experiment Station, offers a retreat-like setting for research and writing. We are distressed that the Center which serves as a center of gravity for faculty research, intellectual community and retention efforts will have no permanent location, with no apparent plans to re-allocate such a space. The Center's offices and meeting spaces serve Center staff, affiliated faculty and fellows, students, the broader campus, and the community. Over the last decade, hundreds of faculty and students have worked in residency at CIS, which hosts dozens of conferences, symposia, and workshops each year and is home to the prestigious Mellon Mays Undergraduate Fellows Program. 
We write to register our concern about the Center's ability to carry out programming given the lack of consultation or planning. Importantly, the haste of this announcement illustrates the administration's lack of vision for the Center's future. Yet the directors and advisory committee have an ambitious vision for CIS, which we want to continue to fulfill. As faculty representing multiple disciplines, departments, and colleges, we witness and benefit from the Center's support of interdisciplinary and transformative research advancing humanistic studies, intellectual exchange, and creative activity. 
We serve on the CIS Advisory Committee because of our gratitude for the Center's support of us, our colleagues, our community partners, and our students in scholarly and creative endeavors. We host colleagues from around the world here, extending the reach and reputation of UCR in doing so. Our students learn and are celebrated here, bringing this experience into their professional lives as alumni. The Center is essential to the campus because it plays a unique role in enabling rigorous humanistic intellectual work, fostering trans-disciplinary dialogue and community building necessary for creatively addressing the overlapping global crises we face today. Such challenges require active, community-engaged scholarship, which requires physical space–a healthy and positive workplace–for staff, scholars, and the community to convene in order to collaborate, co-imagine, and co-create.
We urge the university to make public its plan for the Center's future, especially what will serve as the Center's physical home–a space with capacity for staff, scholars, and community to continue their work–in the immediate term. Without a clear site for the important work CIS accomplishes every day for UCR, faculty and students risk losing crucial momentum and productivity in their current and upcoming projects. Faculty, staff, and students require a representative space that reflects our vision and mission, that enables community building, and that fosters the innovative, interdisciplinary, and community-based scholarship that CIS supports and that can be found in no other location in CHASS or on campus. 
Signed,
Paulo Chagas (Music); Andrea Denny-Brown (English); Kim Yi Dionne (Political Science); Cathy Gudis (History); Tamara Ho (Gender and Sexuality Studies); Ruhi Kahn (Media & Cultural Studies); Matthew King (Religious Studies); David Lo (Biomedical Sciences); Vorris Nunley (English); João Costa Vargas (Anthropology); Ni'Ja Whitson (Dance)