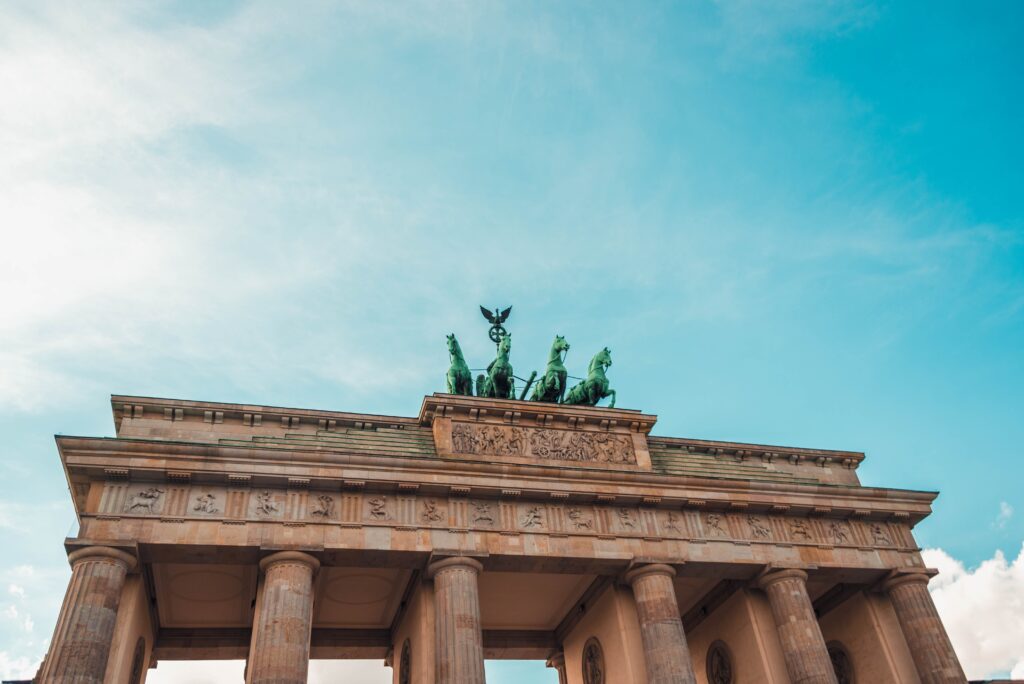 CIS Graduate Student Travel Awards, Germany 2023
Current UCR graduate students in the disciplines of Art History, Comparative Literature, English, History, and Philosophy
Award period is spring 2023 (exact travel dates tbd jointly with Prof. Kohl)
Two awards of $ 2,000 each for research-related travel to Germany. Award includes a city excursion with CIS co-director Jeanette Kohl.
Award Description
Thanks to the generosity of donors Barbara Brink and Georgia Elliott, the Center for Ideas and Society is pleased to announce two graduate student travel awards in the amount of $ 2,000 each for the spring quarter of 2023. Awards may be used to cover travel expenses (air and ground transportation, lodging, expenses for food). Students who have received GSR grants from the CIS in the past are welcome to apply. The awardees will be selected by a committee of faculty from the respective disciplines.
Applications are encouraged from graduate students in the disciplines of Art History, Comparative Literature, English, History, and Philosophy. A background in German art, history, or culture is a plus but not a must. The award will assist students with research travel to Germany in spring quarter 2023. The trip will include an excursion of several days to Hamburg and Berlin with Professor Jeanette Kohl.  Though awardees will book travel to and from Germany individually, travel dates, ground travel, lodging, and programming for the excursion will be coordinated jointly with Professor Kohl. Students will have flexibility to arrive earlier / stay longer in Germany and make individual use of their time for research and additional travel.
Complete Applications Include
Your name, project title, discipline, faculty advisor, year in the program, and a 250-word abstract
List of estimated travel expenses for your stay in Germany
Attach a PDF of a proposal of no more than 1000 words (no bibliography needed), including a short outline of your project and the purpose of your trip to Germany. How will this travel help you in advancing your research project? What do you hope to gain from the excursion to Hamburg and Berlin? What institutions (archives, museums, monuments, universities, libraries etc.) do you plan to visit during your trip?
A letter of recommendation is required from your faculty advisor or another faculty member with whom you work closely. Contact your letter writer to ask them to submit the letter directly to CIS by the application deadline in email to CIS@ucr.edu, with your name in the subject line.
Application form with required documentation should be submitted by 11:59 PM on the deadline.
Incomplete submissions will not be considered.
Online Application
Award Guidelines
Expenses must be incurred within the award period. Extensions of the grant timeframe should be requested in writing in advance. Awards terminate upon leaves of absence, filing fee status, withdrawal, or graduation. You must be registered in the quarter preceding your planned trip.
Expenditures must be within the categories listed in the proposal budget. Written permission is required for budget adjustments or changes to the project scope prior to spending funds. Major purchases of non-expendable equipment, stipends, tuition or fees, alcohol, or expenses related to the preparation of the thesis copy (printing, charts, photographs, etc) are not covered by this award. Reusable supplies and equipment purchased with these funds remain the property of UCR.
Proposals that involve personal interviews or experiments with human subjects must be review and approved by the Institutional Review Board first.  For forms and details, visit http://or.ucr.edu/ORI.aspx. Such proposals should indicate if IRB approval has been granted and the protocol number.  Funds are released only after approval is obtained.
Expenses and Reimbursement
Awards are processed through your home department, according to all applicable UC, UCR, and departmental policies. If your project receives funding, forward your award letter, proposal, and budget to the person in your department who handles travel and reimbursements, usually a financial analyst. The analyst will advise you on the best way to proceed with your expenses. In some cases, expenses can be covered directly by the university through purchase orders or procurement cards. Typically, you will be asked to pay for project expenses out-of-pocket and be reimbursed later.
Be sure to ask about special policies and guidelines pertaining to the types of expenses on your project.  Also make sure you understand what kinds of receipts and documentation will be needed to request reimbursement. Make a note of required forms, departmental deadlines, or special circumstances that could affect the reimbursement timeframe. You are responsible for tracking your own expenses and reimbursements to ensure that you do not exceed the amount of award.
Project Report
After your return from your trip, email a brief (250-300 word) report of your experience to Katharine Henshaw. This report should be in the form of a letter to the donors of your award, sharing your experiences during the trip and how it enriched your project and your academic interests.
Acknowledgements and Publicity
In papers, conference presentations, or other methods of sharing your research, please acknowledge the support of the donors and the Center for Ideas and Society.
From time to time, we may share your name, project title, and/or your narrative report on our website or other promotional materials. This serves our mission by sharing the research of our college with the wider public and helps us emphasize the importance and relevance of humanities-focused projects.
Have questions or need more information?
Contact us