Event Co-sponsorship
What: Cosponsorship request for departmental events or collaborative projects hosted by other campus units
Who: Open
When: Fall, Winter, or Spring
Deadline to apply: Open. Applications reviewed on a rolling basis.
The Center provides cosponsorship funding for departmental events or collaborative projects hosted at UCR by other campus units. To be eligible for award, events must be interdisciplinary with a strong humanities component, free and open to the public, and cosponsored by at least TWO departments or units. Meetings or annual conferences of professional societies or similar organizations are not eligible for co-sponsorship
Requests are considered on an on-going, case by case basis and as funds permit. Possible award amounts range from $100-$150 for smaller events, $200-$250 for full-day workshops/conferences and $300 for graduate student conferences.
To request funding support, complete the form below and click SUBMIT. You will receive an email to confirm that your submission was received.
If you have questions about cosponsorships or other funding needs, contact Katharine Henshaw.
Promoting Co-sponsored Events
Please acknowledge the Center's sponsorship on your flyer and other advertisements. We be happy to help promote your event in our weekly email newsletter and on social media.
Share your flyer and event information with us at CISevents@ucr.edu. You may also add the Center for Ideas and Society as a 'Group' on your UCR calendar event listing (in Localist). Events with the Center in the 'Group' field event will appear on our web calendar with our events.
Logo
The Center's logo is available in high-res jpeg or png format for use on web or print materials.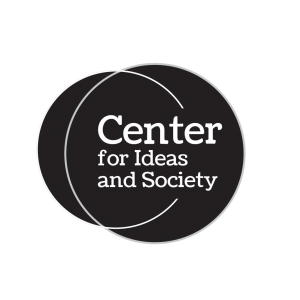 JPEG Logo Download – For use on white backgrounds
PNG Logo Download – For use on colored backgrounds