Dueling Disciplines Series
Throw down the Gauntlet! Challenge a Colleague to Disciplinary Duel
The Dueling Disciplines series offers differing disciplinary perspectives on a subject, theme or issue. Faculty members and graduate students from 'opposing' theoretical viewpoints present alternate ways to think about topics such as God, a university education, yoga, Shakespeare and water. The resulting 'duel' is lighthearted but academically rigorous and respectful. The audience is invited to participate and even to wave flags in support.
Previous Duels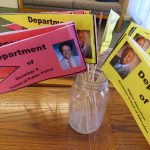 What is College For?
April 13, 2016
In this Dueling Disciplines lecture, Steven Brint (Professor of Sociology & School of Public Policy) and Eddie Comeaux (Assistant Professor of Graduate School of Education) discuss the topic "What is College For"?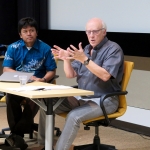 Who is God and what is He/She up to
February 17, 2016
In this Dueling Disciplines lecture,  Muhamad Ali (Associate Professor of Religious Studies) and  Howard Wettstein (Professor of Philosophy) discuss "Who is God and what is He/She up to?"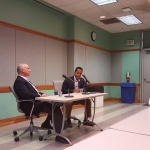 The Ethics of Water?
November 14, 2015
With new water restrictions in California, reservoirs drying up and on-going drought, what are our responsibilities to one another and the environment? How do anthropologists and historians think about water and the relationship of human beings to it? What can we learn from other societies and the past?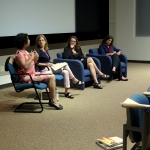 Yoga
May 28, 2015
Is yoga a spiritual practice, beneficial exercise, or ?? Farah Godrej (Political Science), Amanda Lucia (Religious Studies) and Jacqueline Shea Murphy (Dance) Moderated by Jennifer Hughes, (History) will discuss overlapping and sometimes contradictory perspectives on yoga as a religious practice, healthful exercise, or both.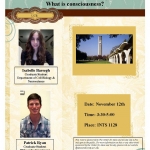 What is Consciousness?
November 12, 2014
In this Dueling Disciplines lecture, graduate students Isabelle Barsegh (Neuroscience) and Patrick Ryan (Philosophy), present definitions of consciousness from differing disciplinary standpoints with Professor Eric Schwitzgebel (Philosophy) as the moderator.