A Mellon Advancing Intercultural Studies lecture by:
Jonathan Walton, Harvard University
Plummer Professor of Christian Morals
Pusey Minister in the Memorial Church
Professor of Religion and Society
What does it mean to privilege the otherwise despised? What do we gain by searching for the invisible, and siding with the disinherited?
Each week Christians across the globe participate in a ritual based on such a radical social ethic, yet few imagine what it might mean for many of our pressing social issues.
Economic inequality? Gun violence? Prison industrial complex? Police brutality?
This lecture considers this common Christian ritual as the means to critique an American Christian culture that reinforces disenfranchisement and reinscribes "social junk" on bodies we are conditioned to fear.
Speaker Bio
Formerly an assistant professor of religious studies at the University of California, Riverside, Walton earned his PhD in religion and society from Princeton Theological Seminary. He also holds a master of divinity degree from Princeton Theological Seminary as well as a BA in political science from Morehouse College in Atlanta.
His research addresses the intersections of religion, politics, and media culture. Drawing on British cultural studies, Walton explores the interrelationship between the media used by Christian evangelists and the theologies thereby conveyed. He argues for forms of theological innovation within the productions of religious broadcasting that are enabled—perhaps even generated—by the media that evangelists use, and he asks what the implications are for the study of evangelical Christianity when one attends to these particular forms of religious and theological performance.
Sponsored by the Center for Ideas and Society through a generous grant from the Andrew W. Mellon Foundation.
Part of Mellon Advancing Intercultural Studies
Download flyer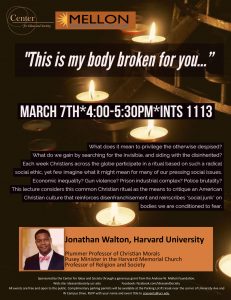 —
All events are free and open to the public. Complimentary parking permits will be available at the Parking Lot #1 kiosk near the corner of University Ave and W Campus Drive. Follow pedestrian signs to CHASS Interdisciplinary Building, Room 1113. Interactive campus map: http://campusmap.ucr.edu/
RSVP with your name and event title to cisevents@ucr.edu. (Limited seating available– RSVP does not guarantee a seat but is a courtesy notification for parking.)