ALBERTO TOSCANO
Thursday, March 2, 12:00 pm
Alberto Toscano is Reader in Critical Theory and Co-Director of the Centre for Philosophy and Critical Theory, Goldsmiths (London, UK). His books include: The Theatre of Production: Philosophy and Individuation Between Kant and Deleuze (2006), Fanaticism: On the Uses of an Idea (2010), and (with Jeff Kinkle) Cartographies of the Absolute (2015). He edited The Italian Difference: Between Nihilism and Biopolitics with Lorenzo Chiesa, and has translated several works by Alain Badiou, as well as Antonio Negri, Furio Jesi and Franco Fortini. He is currently working on two book projects, the first on tragedy as a political form, the second on philosophy, capitalism and 'real abstraction'. He has sat on the editorial board of the journal Historical Materialism: Research in Critical Marxist Theory since 2004, and is series editor of The Italian List for Seagull Books.
The history of philosophy has all too often set up a cordon sanitaire around itself, fending off discomfiting reminders of its entanglements with the ideologies and practices of colonialism and empire. In recent years the centrality of racial paradigms and colonial imaginaries to the formation of European philosophy has garnered greater, if still insufficient recognition in the mainstream of the discipline, though often in the mode of liberal correctives rather than more radical interrogations. Toscano revisits two pioneering works in the history of philosophy and philosophical anthropology that bore the clear imprint of the politics and principles of decolonization, and reflects on the centrality of the conceptual persona of the "savage" to the formation of a modern conception of human beings as (differentially) 'political animals'.
Sponsored by: Center for Ideas and Society, California Center for Native Nations, and Departments of Comparative Literature, English, Ethnic Studies, Media and Cultural Studies, and Philosophy.
Free and open to the public. Disabled accessible. For further information, please contact David Lloyd, dclloyd@ucr.edu
Download flyer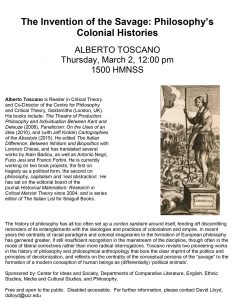 —
For information on parking, please contact the organizer.