Global Capital and America's Financialization
The rapid growth of the financial sector since the 1980s has been one of the most important developments in the American economy. Professor Oatley discusses the importance of "financialization" and its implications for the American political economy. His explanation of financialization is rooted in American global hegemony. Professor Oatley argues that the American financial system has served as a global financial center in three ways: it has issued the global currency, it has functioned as a market maker for globally held dollar-denominated assets, and it has been banker to the world. He finds that the role of the U.S. dollar as the world's primary reserve currency has been a centrally important, and yet mostly neglected, driver of financialization.
Thomas Oatley is Professor of Political Science at the University of North Carolina at Chapel Hill. He is the author of Political Economy of American Hegemony: Military Buildups, Booms, and Busts (2015) and Monetary Politics: Exchange Rate Cooperation in the European Union (1997). His articles have appeared in a number of top journals, including the American Journal of Political Science, International Organization, and Perspectives on Politics. He serves on the editorial board of the Review of International Political Economy. Professor Oatley's research focuses on global finance, specifically, exchange rates and monetary cooperation, central banking and inflation, and financial regulation.
A copy of Professor Oatley's paper is available at http://ucrpoliticaleconomy.ucr.edu
Professor Oatley will be available to meet with graduate students and faculty from 1:30PM to 2:30PM in in Watkins 2206.
Part of the Political Economy Seminar
Download flyer: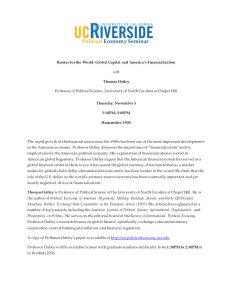 All events are free and open to the public.
For a complimentary parking permit, RSVP with your name and event title to cisevents@ucr.edu.
*Not available for current UCR students, faculty, and staff