Attentiveness
Sunder Rajan is author of Biocapital: The Constitution of Post-Genomic Life, which follows a number of actors – scientists, entrepreneurs, venture capitalists and policy makers – involved in genomics research and market development in a range of sites in the US and India. His work engages social theories of epistemology, political economy, ethics, subjectivity, language and value, in order to provide ways to think about a current moment in world history that is significantly shaped by techno-scientific capitalism.
The STS Methods series tracks methods by which we surface and elucidate sociotechnical objects, systems, networks, infrastructures, and things.
For more information visit www.sts.ucr.edu
Image: NogardDer, "Where They Make the Stuff" is licensed under CC BY 3.0
Download flyer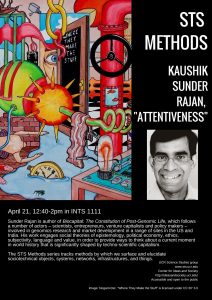 —
This event is free and open to the public.
Free parking for non-UCR guests by RSVP to cisevents@ucr.edu.