A Conference in Honor of Philip Brett (1937-2002)
Philip Brett, born in Edwinstowe, Nottinghamshire, in England, studied piano as a young boy.  Once in school, first as a choirboy at Southwell Minster Grammar School, in Nottinghamshire, and then at King's College Cambridge, he excelled in music.  As a student at King's, under the tutelage of Thurston Dart, he was singled out for his historical acuity and his scholarly precision. His interest in the music of William Byrd and other English Renaissance polyphonists led to early publications, and in 1966, he was invited to assume a tenure-track position at the University of California, Berkeley. In addition to working in the field of Renaissance musicology, he also studied the operas of twentieth-century composers, especially those of Benjamin Britten.  This work led him to inaugurate, almost single-handedly, gay studies in music. Philip was a performer as well as a musicologist.  From 1966-1991, he was conductor of the Chamber chorus at UC Berkeley, with which he recorded many Renaissance and eighteenth-century works, especially with Nicholas McGeegan's Philharmonia Baroque Orchestra.  In 1990, Philip left Berkeley to come to UCR and be with his life partner, George Haggerty, who teaches in the English Department.  In 1996, the Gay and Lesbian Study Group of the American Musicological Society instituted the Philip Brett Award "to honor each year exceptional musicological work in the field of gay, lesbian, bisexual, transgender/transsexual studies . . . in any country and in any language."  This award affirms Philip Brett's importance in the field of musicology and how deeply loved he was by those who worked with him.
Presented by the Department of English in conjunction with the College of Humanities, Arts, and Social Sciences and the Center for Ideas and Society.
Schedule
Flyer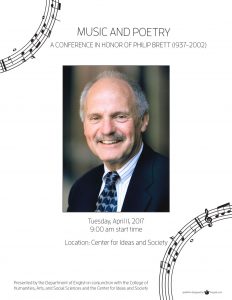 —
Please contact the organizer for information on parking.