The politics of inequality now
This talk will be about two different ways of understanding economic inequality in the U.S. and will argue not only that it's conceptually  important to distinguish between them but also that it's politically important to choose between them.
Speaker Bio
The tenth anniversary edition of Walter Benn Michaels' The Trouble with Diversity: How We Learned to Love Identity and Ignore Inequality was released in 2016. Other publications include The Beauty of a Social Problem; Photography, Autonomy and Political Economy, The Shape of the Signifier: 1967 to the End of History, and Our America: Nativism, Modernism, and Pluralism (Post-Contemporary Interventions). Michaels is a professor of English in the College of Liberal Arts and Sciences at the University of Illinois, Chicago.
Sponsored by
Center for Ideas & Society
Mellon AIS Responses to Economic Inequality Seminar
College of Humanities, Arts, and Social Sciences
Blum Initiative for Global and Regional Poverty
Department of English
Parking
Complimentary parking is available for community members and non-UCR students, faculty, and staff. To request a parking permit, RSVP with your name & event title by November 15 to cis@ucr.edu.
Download flyer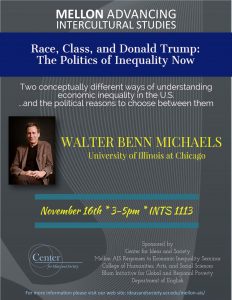 ---
This event is sponsored by the Advancing Intercultural Studies project and the UCR Center for Ideas and Society through a generous grant from the Andrew W. Mellon Foundation.