Why I'm going to sea
Mita Mahato
Artist-in-Residence, UCR School of Medicine Associate professor of English, Puget Sound University
Mita Mahato's primary areas of research and teaching are in contemporary Visual and Cultural Studies, with a secondary specialization in nineteenth-century British Literature.  Her research explores the articulation and reception of illness stories in extra-lexical narrative forms, including online media, comics, film, and photo essays. Her cut paper art and comics explore the transformative capacities of found and handmade paper using layered shapes, textures, and colors that together build multivalent images and stories. Her most recent cut paper comic "Sea" was recognized by Cartoonists NW as 2015's "best comic book" and will be the subject of continued work during her participation in the Arctic Circle Residency in 2017. Her comics and collaborative projects have been spotlighted by The Stranger, Seattle Review of Books, and AV Club. She is Associate Professor of English at the University of Puget Sound, serves on the board for Short Run Seattle, and teaches art workshops for Seattle Aquarium's Creativity Inspiring Conservation program, Henry Art Gallery's ArtVenture program, and other community organizations.
Cosponsored by the Center for Ideas and Society, Center for Healthy Communities, Media and Cultural Studies, and Speculative Fiction and Cultures of Science.
Download flyer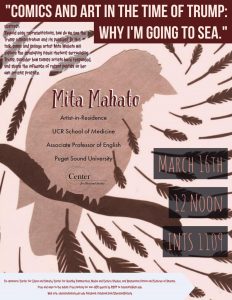 —
Free and open to the public.
Free parking for non-UCR guests by RSVP to cisevents@ucr.edu.