The Global Travel of Mixed-Race Jamaicans and Constructions of Identity
Dan Livesay, Ph.D.
Assistant Professor of History
Claremont McKenna College
At the turn of the nineteenth century, small numbers of elite, mixed-race Jamaicans traveled to Britain, then on to India, and back to Britain again in order to improve their financial and social statuses. This global movement allowed them to re-position their identities as East Indian nabobs, rather than as West Indian elites. By divorcing themselves from an enslaved, African past, they could live more effectively as white- or at least non-black-Britons. But, as anti-black prejudice escalated at the end of the eighteenth century, it became much more difficult for Jamaicans of color to undertake this journey successfully. This talk assesses the way that mixed-race elites responded by re-framing their identities through visual, familial, and geographic alterations.
Part of the Global 19th Century
Download flyer: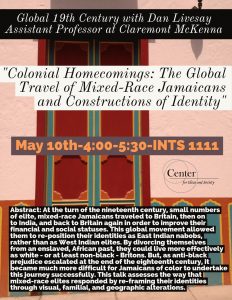 —
This event is free and open to the public.
Free parking for non-UCR guests by RSVP to cisevents@ucr.edu.