Christopher Kelty is the author of Two Bits: The Cultural Significance of Free Software (Duke University Press, 2008). He is professor at the University of California, Los Angeles, where he holds appointments in the department of Anthropology, the department of Information Studies, and the Institute for Society and Genetics. The STS Methods series tracks methods by which we surface and elucidate sociotechnical objects, systems, networks, infrastructures, and things.
For more information visit www.sts.ucr.edu
Download flyer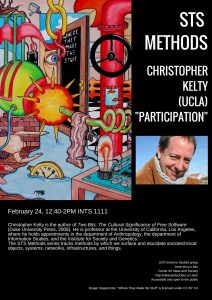 Image: NogardDer, "Where They Make the Stuff" is licensed under CC BY 3.0
—
All events are free and open to the public.
For a complimentary parking permit, RSVP with your name and event title to cisevents@ucr.edu.
*Not available for current UCR students, faculty, and staff