Seeds of Memory: Botanical Legacies of the African Diaspora
Please join us for a talk with Judith Carney, Professor in the Geography Department, Institute of the Environment and Sustainability at University of California, Los Angeles.
This talk highlights the role of the transatlantic slave trade for the circulation of African plants, animals, and natural knowledge in the Atlantic World. Emphasis is on the significance of slave ships for their circulation and the New World sites where the species were established. Slave ships carried African foodstaples and food animals along with enslaved peoples familiar with their cultivation and husbandry. The discussion illuminates the ways that African introductions and knowledge systems shaped the foodways and environmental history of tropical America.
Sponsored by the UCR Center for Ideas and Society (CIS) Developing African Studies project.
Co sponsors: UC Global Food Initiative and Botany and Plant Science.
Part of the Developing Africa Studies Series
Download flyer: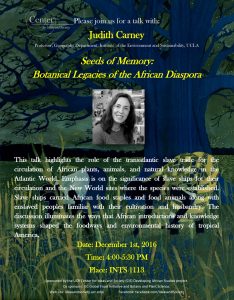 All events are free and open to the public.
For a complimentary parking permit, RSVP with your name and event title to cisevents@ucr.edu.
*Not available for current UCR students, faculty, and staff