Selling Empire: India in the Making of Britain and America, 1600-1830
The Center for Ideas and Society presents a book talk with Jonathan Eacott, Associate Professor of History.
Linking four continents over three centuries, Selling Empire demonstrates the centrality of India–both as an idea and a place–to the making of a global British imperial system. In the seventeenth century, Britain was economically, politically, and militarily weaker than India, but Britons increasingly made use of India's strengths to build their own empire in both America and Asia. Early English colonial promoters first envisioned America as a potential India, hoping that the nascent Atlantic colonies could produce Asian raw materials. When this vision failed to materialize, Britain's circulation of Indian manufactured goods–from umbrellas to cottons–to Africa, Europe, and America then established an empire of goods and the supposed good of empire.
Reception to follow
Part of Hot off the Presses
Download Flyer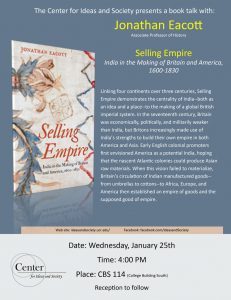 All events are free and open to the public.
For a complimentary parking permit, RSVP with your name and event title to cisevents@ucr.edu.
*Not available for current UCR students, faculty, and staff