Frank Lee
Director of Entrepreneurial Game Studio
Drexel University
The game design program at Drexel University started as a collaboration between the two departments of Computer Science and Digital Media in 2008. In my talk, I will review the history of Drexel's game design program including the creation of a "concentration" in CS, a flexible addition to the CS curriculum. I will then discuss the future of gaming at Drexel including the Entrepreneurial Game Studio, founded in 2013, that has as its mission a broad outreach program to get more middle and high school girls interested in computer science as well as an integration of entrepreneurship in gaming for Drexel students. And if time permits, I will also discuss how gaming has become a central hub of trans-disciplinary research and creative work at Drexel that includes collaborations with Psychology, Computer Science, Theater, Education, and Biomedical Engineering.
Brief Bio:
Dr. Frank J. Lee is an Associate Professor of Digital Media at Drexel University with appointments in Psychology, Computer Science, and Biomedical Engineering. Lee received his PhD in Cognitive Psychology in 2000 from Carnegie Mellon University, and his BA in Cognitive Science in 1994 from UC Berkeley. Lee co-founded Drexel's Game Design Program in 2008, currently ranked as one of the Top Ten Best Game Design Programs in the US by The Princeton Review. He is also the founding director of the Entrepreneurial Game Studio at Drexel University, a unique university-wide initiative to teach students entrepreneurship by helping them to start their own game companies. His past projects have won national and international awards and recognitions and have received extensive media coverage. His installation project, Skyscraper Tetris in 2014, was mentions in over 1500 news stories worldwide with an estimated 2.2 Billion views. It was also recognized as a Guinness World Record as the Largest Architectural Videogame Display. He was selected as one of the 50 Most Admirable Gaming People by Polygon in 2014, Hacker of the Year by Geekadelphia in 2013, and one of the Smartest People in Philadelphia by Philadelphia Magazine in 2012.
Download flyer: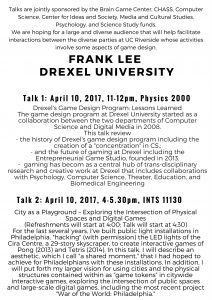 —
Talks are jointly sponsored by the Brain Game Center, CHASS, Computer Science, Center for Ideas and Society, Media and Cultural Studies, Psychology, and Science Study funds.
Please contact the organizer for information on parking.