To what extent have the following issues become embedded in conflict between conservatives and liberals, Democrats and Republicans: political conflict over opposing ideological stances on the government's role in regulating and allocating resources; social insurance programs and which risks government, and which risks individuals, should bear; taxes; the deficit; health care; economic policy; social class; race/ethnicity; social-moral and 'values' issues; inequality; American foreign policy; and the use of force. Has Donald Trump had any fundamental impact on any of these issues?
Speaker Bio
Tom Edsall has been teaching political journalism at Columbia University since 2006. His column on strategic and demographic trends in American politics appears every Thursday. He has been a weekly contributor to The Times online Opinion Pages since 2011. He covered politics for The Washington Post from 1981 to 2006, and before that for The Baltimore Sun and The Providence Journal. He has written five books: "The Age of Austerity", "Building Red America," "Chain Reaction: The Impact of Race, Rights, and Taxes on American Politics" (a Pulitzer finalist), "Power and Money: Writing About Politics" and "The New Politics of Inequality." He lives in Washington, D.C.
Sponsored by
Center for Ideas & Society
Mellon AIS Responses to Economic Inequality Seminar
College of Humanities, Arts, and Social Sciences
Blum Initiative for Global and Regional Poverty
Department of Sociology
Parking
Complimentary parking is available for non-UCR students, faculty, and staff. To request a permit, send an email with your name and event to cis@ucr.edu.
Download flyer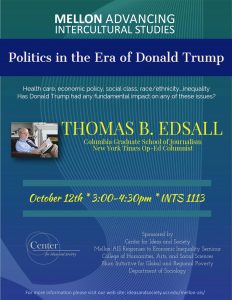 This event is sponsored by the
Advancing Intercultural Studies
project and the UCR Center for Ideas and Society through a generous grant from the Andrew W. Mellon Foundation.