*EVENT CANCELLED*
This event has been cancelled and will be rescheduled. Sorry for the inconvenience.

Young French Muslim Women Conduct Hijrah Migrations from Marseille to the Muslim World
This talk explores the onward migrations being carried out by young Sunni-identified women from Marseille, France, towards their parents' home countries in North Africa and also the Gulf States. Based on long-term ethnographic research with diasporic youth from Marseille's northern housing projects, I detail the matrix of circumstances leading highly pious young women, in particular, to depart Marseille in their early twenties. I discuss how social media networks prove essential, furthermore, in both facilitating and justifying these young women's relocations. Close attention paid to the discursive stances they assume, in person and in their online conversations, shows that these spiritual migrations are underpinned by a reframing of Marseille as a place of exile and of the Muslim World, simultaneously, as the true abode for European Muslims. After linking such stances to circulating religious discourses, I address some of the challenges these young women are encountering in their new locales.
Dr. Cécile Evers is an anthropologist whose work is situated at the intersection of the study of the Mediterranean as a cultural area, linguistic anthropology, and Islamic Studies. She holds a Ph.D. from the University of Pennsylvania and is currently a lecturer in UCR's Department of Anthropology.
Co-sponsors: Anthropology, Comparative Literature & Foreign Languages, Developing African Studies, Middle Eastern and Islamic Studies
Part of the Developing African Studies series
Download flyer: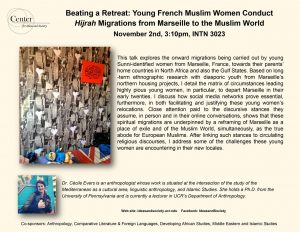 All events are free and open to the public.
For a complimentary parking permit, RSVP with your name and event title to cisevents@ucr.edu.
*Not available for current UCR students, faculty, and staff