Brenna Bhandar
Time: 3:30 PM
What distinguishes the emergence of a modern racial regime of ownership in settler colonies, and indeed those places where slavery was a core part of economic development? Bhandar draws on Cedric Robinson's concept of the racial regime, along with the work of Stuart Hall, to examine the shared conceptual logics of racial subjectivity and modern laws of private property, exploring how they are articulated in conjunction with one another. Scientific techniques of measurement and quantification, economic visions of land and life rooted in logics of abstraction, culturally inscribed notions of white European superiority, and philosophical concepts of the proper person who possessed the capacity to appropriate (both on the level of interiority and in the external world) worked in conjunction to produce both laws of property and racial subjects. Bhandar argues that we cannot fully grasp the production of racial subjectivity without attending to the emergence of modern property laws and vice-versa.
Brenna Bhandar is Senior Lecturer in Law at SOAS, London. Her current research project explores the relationship between racial formations and modern property law in settler colonial contexts. She examines articulations of race and ownership that emerge through the appropriation of Indigenous lands, drawing on a combination of critical theory, archival sources, and interviews in Canada, Australia and Israel/Palestine. She is co-editor (with Jon Goldberg-Hiller) of the book Plastic Materialities: Legality, Politics and Metamorphosis in the work of Catherine Malabou (2015) and co-editor of a special issue of Darkmatter Journal, "Reflections on Dispossession: Critical Feminisms" (2016). This collection traces a path for contemporary critiques of neoliberal capitalism and colonial dispossession.
Talk co-sponsored by the Center for Ideas and Society, California Center for Native Nations, and the Departments of English, Ethnic Studies, and Media and Cultural Studies. For further information, please contact David Lloyd, dclloyd@ucr.ed.
The event is free and open to the public. Disabled accessible.
Download flyer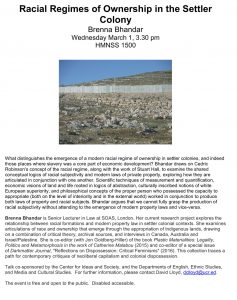 —
For questions about parking please contact the organizer.