Cristina T. Bejarano is a UC Chancellor's Postdoctoral Fellow at UCR. She earned her PhD in Anthropology from the University of California, Irvine, where she specialized in the Anthropology of Science and Technology Studies. Her research has been funded by the National Science Foundation and the National Academies of Sciences Ford Foundation.
The STS Methods series tracks methods by which we surface and elucidate sociotechnical objects, systems, networks, infrastructures, and things.
Download flyer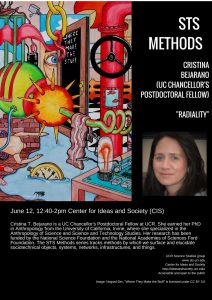 —
Image: NogardDer, "Where They Make the Stuff" is licensed under CC BY 3.0
Free and open to the public.
Free parking for non-UCR guests by RSVP to cis@ucr.edu.