Reception & Book Talk
Anthea Kraut, Associate Professor and Chair, Dance
Choreographing Copyright: Race Gender, and Intellectual Property Rights in American Dance
Choreographing Copyright is a new historical and cultural analysis of U.S. dance-makers' investment in intellectual property rights. Stretching from the late nineteenth century to the early twenty-first, the book reconstructs efforts to win copyright protection for choreography and teases out their raced and gendered politics, showing how dancers have embraced intellectual property rights as a means to both consolidate and contest racial gendered power.
This event is made possible by a generous grant from Georgia Elliott and is free and open to the public.
Learn more about the Emory Elliott Book Awards.
Download flyer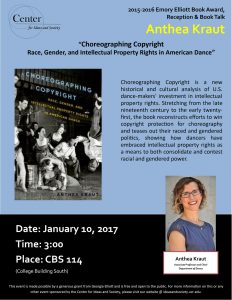 All events are free and open to the public.
For a complimentary parking permit, RSVP with your name and event title to cisevents@ucr.edu.
*Not available for current UCR students, faculty, and staff