Developing African Studies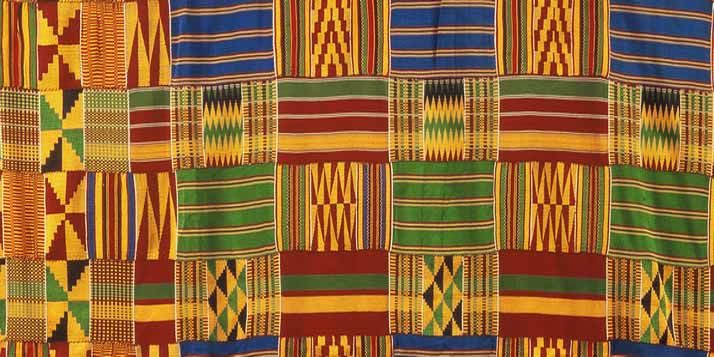 This initiative seeks to build a foundation for institutional development in African Studies. This is an opportune moment to focus on sub-Saharan Africa and its shifting global connections.  Accelerated urbanization, new mineral discoveries, and land grabs for agriculture and conservation are reshaping African cities and rural areas.  New investment from China, Brazil and India and the continued privatization of state resources are bringing capital and development, but also concerns about neocolonialism and the limits of democratization.  The explosion of mobile internet access has created a generation with unprecedented connections to global media and African diasporic communities in Europe and the USA, as well as forms of political and economic organization that bypass state-controlled institutions.  These transformations are reflected in movements in music, art, literature and religion that are producing hybrids of global and distinctively African elements.  Existing hierarchies around gender and sexuality, age and generation, ethnicity and identity, and labor and capital face challenges and contestation in the courts and on the streets, with uncertain outcomes.
Currently, UCR finds itself in a paradoxical situation: while it touts its diversity, it neglects the world's second-largest and second-most-populous continent.  UCR has one of the largest percentages of students of African descent among the UCs, with the highest graduation rate, alongside the fewest course offerings and faculty working in African Studies of any UC campus except Merced.  These shortcomings compromise our teaching and research, our students' knowledge of the world, access to external funding, and our aspirations to AAU membership.   The CIS supported initiative focusing on sub-Saharan Africa and its shifting global connections aims to start to remedy this situation.
Our efforts aim to build the groundwork for expanding African Studies in the curriculum, through an undergraduate major/minor and a graduate designated emphasis; developing faculty and student exchanges and increasing recruitment of African students; and developing proposals for expansion of Africanist faculty at UCR.
Initiative Members (African Studies Steering Committee)
Ademide Adelusi-Adeluyi, Assistant Professor, History
Jody Benjamin, Acting Assistant Professor, History
Derick Fay, Associate Professor, Anthropology
Anthonia Kalu, Professor, Comparative Languages and Lit./Gender and Sexuality Studies
Kara Miller, PhD Candidate, Anthropology
Yolanda Moses, Professor, Anthropology
Makeda Parker, Lecturer, Dance
Jade Sasser, Assistant Professor, Gender and Sexuality Studies
Alison Scott, Associate University Librarian for Collections and Scholarly
Communication
Kenneth Simons, Director, African Student Programs
Patricia Smith-Hunt, Librarian and Subject Specialist for African and African-American
Studies
Activities
For 2016-2017, the efforts of this CIS workshop will focus on three areas:
1) hosting a seminar series aimed at
a) bringing leading Africanist scholars to campus,
b) bringing in individuals to provide guidance in program building (e.g. NSF Program Officers, directors of African Studies centers elsewhere, etc.), and
c) providing a forum for Africanists at UCR to present their work and become acquainted with one another's work;
2) identifying and building networks between existing Africa-related resources on campus, including developing linkages with our African student organizations, in order to identify speakers and curricular innovations (e.g. African language instruction) that support their interests;
3) building affiliations between UCR and a select group of 4–5 African universities;
The efforts will continue to lay the groundwork for expanding African Studies in the curriculum,
through a graduate designated emphasis, and an undergraduate major/minor; developing faculty
and student exchanges and increasing recruitment of African students; and developing proposals
for external support for African Studies and expansion of Africanist faculty at UCR.
For more information visit: africanstudies.ucr.edu
Past Events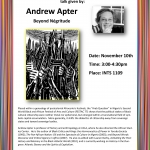 Andrew Apter: Beyond Négritude
November 10, 2015
Placed within a genealogy of postcolonial Afrocentric festivals, the "Arab Question" in Nigeria's Second World Black and African Festival of Arts and Culture (FESTAC 77) shows that the political stakes of black cultural citizenship were neither trivial nor ephemeral, but emerged within a transnational field of symbolic capital accumulation. More generally, it shifts the dialectics of citizenship away from sovereign states and toward sovereign bodies.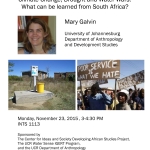 Mary Galvin: Climate Change, Drought & Water Wars
November 23, 2015
In this Developing African Studies talk, Mary Galvin (University of Johannesburg, Department of Anthropology and Development Studies) discussed Climate Change, Drought & Water Wars: What can be learned from South Africa? Talk sponsored by the Developing African Studies group at the Center for Ideas and Society, the UCR Water Sense IGERT Program and the Department of Anthropology.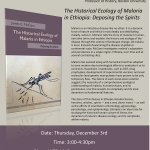 James McCann: The Historical Ecology of Malaria in Ethiopia
December 3, 2015
Malaria is an infectious disease like no other: it is a dynamic force of nature and Africa's most deadly and debilitating malady. James C. McCann tells the story of malaria in human, narrative terms and explains the history and ecology of the disease through the science of landscape change. Instead of examining the disease at global or continental scale, McCann investigates malaria's adaptation and persistence in a single region, Ethiopia, over time and at several contrasting sites.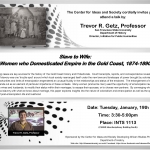 Trevor R. Getz: Slave to Wife
January 19, 2016
Slave-trading cases are key sources for the history of the Gold Coast Colony and Protectorate. Court transcripts, reports, and correspondence reveal that the institution of slavery was one 'trouble spot' around which local society rearranged itself under the new laws and landscape of power brought by colonial rule, and that the opportunities and limits of emancipation engendered an unusual fluidity in the relationships and status of the enslaved.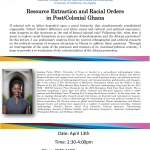 Jemima Pierre: Resource Extraction and Racial Orders in Post/Colonial Ghana
April 13, 2016
If colonial rule in Africa depended upon a racial hierarchy that simultaneously consolidated supposedly "tribal" (ethnic) difference and white racial and cultural and political supremacy, what happens to this structure at the end of formal colonial rule? Following this, what does it mean to explore racial formations in our analyses of decolonization and the African postcolony?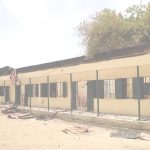 Peyi Soyinka-Airewele: Chibok Syndrome and Beyond
May 17, 2016
The horrific terrorist abduction of 276 schoolgirls from their government secondary school in Northeastern Nigeria, catapulted the previously obscure town of Chibok into international limelight. For a while, that act of violence gripped the global imagination and transformed the homegrown "Bring Back our Girls" (BBOG) protests into a global mobilization that even featured Michelle Obama bearing a BBOG sign.
This project is funded by a Humanities Interdisciplinary Projects (HIP) Award. The Center's annual HIP Awards support projects of varying format and focus in the humanities fields or cross-college collaborations with a humanities emphasis. The Center's Advisory Committee seeks to fund interdisciplinary work across the academic community with potential appeal to a wider public audience. Examples of projects HIP awards may support include, but are not limited to, seed funding for larger grant proposals, cross-college and cross-school collaborations and workshops, conferences, symposia, and public lectures.