Partnership
Sharon Traweek is associate professor in the Department of Gender Studies and History at UCLA and author of Beamtimes and Lifetimes: The World of High Energy Physicists. She conducts multi-sited ethnographic research on knowledge making practices and the infrastructures in which they are embedded. Her work examines discursive formations [including narrative strategies], their transnational circulations, and variations in the meanings knowledge makers attribute to artifacts, bodies, cultures, and natures. She also engages in international, interdisciplinary collaborations across many organizations, universities, and research institutes  around the world.
For more information visit www.sts.ucr.edu
Image: NogardDer, "Where They Make the Stuff" is licensed under CC BY 3.0
Download flyer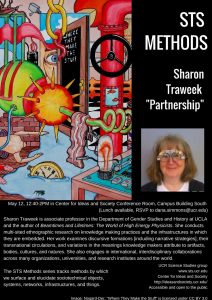 —
Free and open to the public.
Free parking for non-UCR guests by RSVP to cisevents@ucr.edu.